Deadly blast hits Hezbollah post in Lebanon
At least three people were killed in the blast near a Hezbollah checkpoint in east Lebanon on Saturday, sources say
At least three people were killed in a car bomb near a Hezbollah checkpoint in east Lebanon on Saturday, sources told Al Arabiya News Channel.
The attack occurred in Baalbek, where the group has been targeted in the past in attacks linked to the ongoing crisis in neighboring Syria, the sources said.
Infographic: Deadly blast hits Hezbollah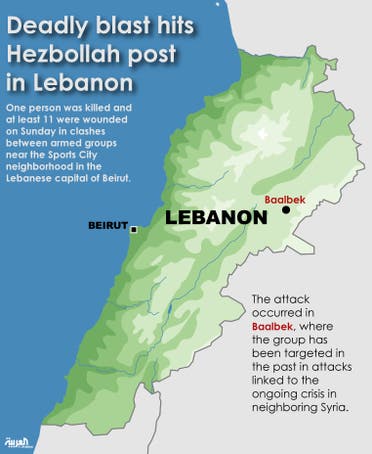 Al-Manar television channel, which is run by Hezbollah, denied local media reports that three members of its group had been killed. It gave no further information on the blast.
The country's National News Agency said a bomb-laden vehicle exploded at a Hezbollah checkpoint between Khreibeh and Ham in Baalbek.
Although it was not clear who was behind Saturday's attack, the eastern Bekaa Valley is a stronghold of Hezbollah, which has been targeted in the past by bomb attacks. The Iranian-backed group has also been targeted repeatedly in the southern suburbs of Beirut where it enjoys strong support.
The Shiite militia is a staunch supporter of the Damascus regime and has been fighting alongside Syrian government forces against opposition seeking President Bashar al-Assad's ouster.
(With Reuters)