U.S. and allies unleash airstrikes on ISIS in Syria
Some of the airstrikes were against ISIS targets in Raqqa, regarded as the militant group's stronghold
The United States and its Arab allies began on Tuesday airstrikes against the Islamic State of Iraq and Syria (ISIS) in Syria and President Barack Obama vowed more strikes against the militant group.
"U.S. military and partner nation forces are undertaking military action against [ISIS] terrorists in Syria using a mix of fighter, bomber and Tomahawk land attack missiles," said Rear Admiral John Kirby, the Pentagon' press secretary.
U.S. Central Command said Bahrain, Jordan, Qatar, Saudi Arabia and the United Arab Emirates had either participated in or supported the strikes, without elaborating.
Saudi Arabia, Bahrain, Jordan and the UAE confirmed taking part in the operations.
A Saudi official was quoted by the Saudi Press Agency as saying Riyadh's military participation was aimed at supporting the moderate Syrian opposition as part of an international coalition to combat terrorism. It did not give further details about the Saudi role.
Turkey could give military or logistical support to U.S.-led air strikes against Islamic State insurgents in Syria, President Tayyip Erdogan was quoted as saying on Tuesday.

"We will give the necessary support to the operation. The support could be military or logistics," Erdogan was quoted by Turkish broadcaster NTV as telling reporters in New York.
Infographic: U.S.-led coalition strikes ISIS in Syria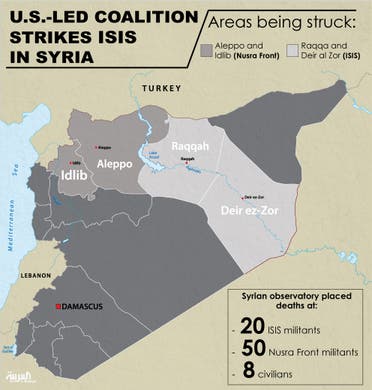 U.S. officials said the airstrikes began around 0030 GMT.
The operation has so far killed 120 militants from ISIS and Al-Qaeda affiliate al-Nusra Front, including three children, said the Syrian Observatory for Human Rights.
The Pentagon said more than 160 munitions were dropped on targets in Syria and that there are no indications "so far" of civilian casualties.
It said the U.S. air strikes have destroyed a group of Al-Qaeda veterans, members of the Khorasan group in Syria, who were suspected of plotting an imminent attack on Western targets.

"We believe that the individuals that were plotting and planning ... it have been eliminated," Kirby told ABC television, referring to the alleged plan to hit U.S. interests.
The opening salvo in the aerial operation against ISIS marks the start of what Obama has warned will be a lengthy campaign that aims to degrade and ultimately defeat the militant group who have seized control of a swath of territory spanning the Syria-Iraq border.
Read also: Iraq FM predicts longer campaign against ISIS in Syria
Read also: Shift in balance of power needed in Syria: opposition chief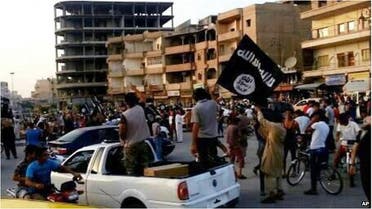 "We will not tolerate safe havens for terrorists who threaten our people," Obama said on Tuesday as he left the White House to travel to the United Nations in New York, where he will meet officials from Arab nations that joined in the strikes against ISIS.

Hours after the airstrikes, Syria's foreign ministry said Damascus received a letter about the plan from U.S. Secretary of State John Kerry delivered through Iraq's foreign minister.
But a senior U.S. official said Washington gave the Syrian regime no advance warning of the air strikes.

"We did not provide advance notification to the Syrians at a military level, or give any indication of our timing on specific targets. Secretary Kerry did not send a letter to the Syrian regime," State Department spokeswoman Jen Psaki said in a statement.
Iran, Damascus' ally, criticized the airstrikes as illegal, saying they required the approval of Damascus.
Syrian officials have long insisted that any strikes against ISIS inside their country should come only after coordination with Damascus, warning that moving without the Syrian regime's consent would be an act of aggression against Syria and a breach of the country's sovereignty.

Reactions
The Syrian government said it would continue to attack ISIS in Raqqa and Deir al-Zor, areas of eastern and northern Syria that were hit in the U.S.-led airstrikes on Tuesday.
Damascus said coordination with the Iraqi government was continuing at its "highest levels."
The opposition Syrian National Coalition, meanwhile, welcomed the U.S.-led strikes, but urged sustained pressure on President Bashar al-Assad's government.
The strikes followed an urgent appeal for action made by SNC President Hadi al-Bahra "to avert catastrophe."
He added: "Every day that passes without airstrikes in Syria allows ISIS the opportunity for more growth and more terror."
Mission scope
Military officials said Washington would target militants' command and control centers, re-supply facilities, training camps and other key logistical sites, the Associated Press reported.
"We will be prepared to strike [ISIS] targets in Syria that degrade [its] capabilities," Army General Martin Dempsey, chairman of the Joint Chiefs of Staff, told senators last week.
"This won't look like a shock-and-awe campaign, because that's simply not how [ISIS] is organized, but it will be a persistent and sustainable campaign," he said.
Defense Secretary Chuck Hagel said the plan "includes targeted actions against [ISIS] safe havens in Syria, including its command and control logistics capabilities and infrastructure." He said Dempsey and he approved the plan.
Washington has been increasing its surveillance flights over Syria to gather intelligence on potential targets and militant movements.
Military leaders have said about two-thirds of the estimated 31,000 ISIS fighters are in Syria.
U.S. President Barack Obama has vowed to go after ISIS militants wherever they may be.
His military and defense leaders told Congress last week that airstrikes in Syria were meant to disrupt the group's momentum and provide time for Washington and allies to train and equip moderate Syrian rebels.
The U.S. military has been launching airstrikes in Iraq since August, focusing on protecting American interests and personnel, assisting Iraqi refugees and securing critical infrastructure.
Last week, as part of the newly expanded campaign, Washington began going after militant targets across Iraq, including enemy fighters, outposts, equipment and weapons.
To date, U.S. fighter aircraft, bombers and drones have launched about 190 airstrikes in Iraq.
Congress passed legislation last week authorizing the military to arm and train moderate Syrian rebels.
Obama signed the bill into law on Friday, providing $500 million for the training of about 5,000 rebels over the coming year.
U.S. leaders have been trying to build a broad international coalition, including Arab countries, to go after ISIS and help train and equip Iraqi security forces and Syrian rebels.
ISIS, meanwhile, has threatened retribution. Spokesman Abu Mohammed al-Adnani said fighters were ready to battle the U.S.-led coalition, and called for attacks at home and abroad.
[With AP and Reuters]