Video: Lebanese soldier deserts, joins Syria's Nusra Front
In the video, an armed Mohammad Antar accuses Hezbollah of killing Lebanese soldiers near the southern Lebanese city of Sidon last year
A video released by the Turkish Anadolu news agency Friday featured a second Lebanese soldier reportedly announcing his defection to join the Nusra Front, Al-Qaeda's offshoot group in Syria.
In the video, an armed Mohammad Antar accused Hezbollah of killing Lebanese soldiers in Abra, in the southern Lebanese city of Sidon, in June last year. In the background were a black and white flag and two masked gunmen carrying AK-47 assault rifles.
The video also showed Antar's alleged military identification card.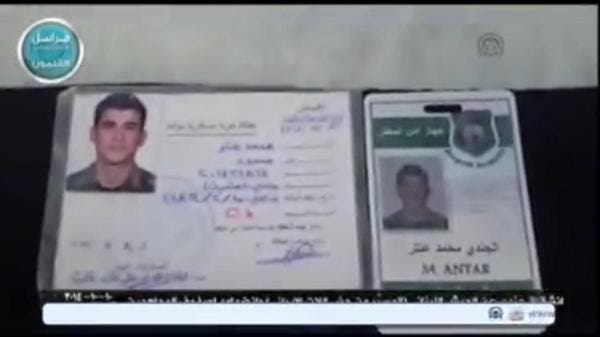 The Nusra Front reportedly announced the news of Antar's defection earlier on Friday on Twitter and posted a photo of the soldier carrying a machinegun while flanked by two masked gunmen.

According to Anadolu, a Lebanese military source confirmed the soldier had been absent for weeks, adding that he "escaped his military duty" during his vacation.
This is not the first time a Lebanese soldier has allegedly defected to the Nusra Front.
In July, Lebanese soldier Atef Saadeddine appeared in a video wearing a military uniform along with five other masked men and announced his desertion from the army and allegiance to the Nusra Front, according to media reports.
The conflict in Syria has intensified an already deep-rooted sectarian tension in Lebanon with Sunni Muslims supporting the rebels against Syrian President Bashar al-Assad and Lebanese Shiite forces such as Hezbollah fighting alongside the Damascus regime.