Libya: 12 killed as army advances in Benghazi
Haftar launched a military offensive dubbed 'Operation Dignity' against Islamists in Benghazi in May, but with little success
At least 12 people were killed in the eastern Libyan city of Benghazi on Wednesday as Forces loyal to renegade Libyan General Khalifa Haftar stepped up offensive against Islamist militias to recapture the strategic city.

"At least 12 people have been killed and 10 others wounded since Wednesday morning during the clashes," a hospital source, who requested anonymity, told AFP.
Haftar's forces reportedly entered Benghazi from eastern and southern fronts and took over a major military camp of the militant Ansar al-Shariah group, Al Arabiya correspondent in Libya said.
Meanwhile, the Egyptian presidency has denied reports that the country's air force is taking part in air strikes against militant positions in Libya.
Libya's air force chief Saqr al-Jaroushi also denied the reports, saying: "Egypt and its leadership respect Libya's airspace and its borders and never breached it."
Haftar had announced he was ready to "liberate" the flashpoint eastern city, which has been besieged by an Islamist militia known as the "February 17 Martyrs Brigade" among others.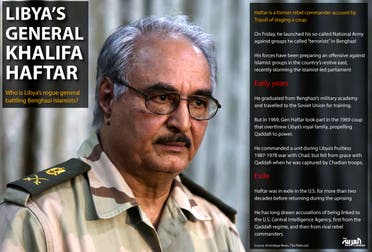 In a speech broadcast late Tuesday, Haftar warned: "The coming hours and days will be difficult."
He said: "I bring you today (a message) from the men of Operation Dignity saying that they are ready to fulfill their next goal, which is to liberate the city of Benghazi."
A spokesman for Haftar had earlier called on young people in Benghazi to secure their neighborhoods and to keep out Islamist fighters, saying the former general's forces would enter the city on Wednesday.
Prime Minister Abdullah al-Thinni and Haftar's spokesman Mohamed El Hejazi said the army had seized the February 17 camp belonging to the "Majlis al-Shura" forces, an umbrella group of Islamist militias.
"The Majlis al-Shura forces are fleeing from the military confrontation," Thinni told the UAE-based Sky News Arabia TV channel. "The Benghazi area is now safe."
It was impossible to verify the statement immediately but a Reuters reporter could hear gunfire in the area of the camp, suggesting that a battle was not yet over.
Fighters from one Islamist group, Ansar al-Sharia, attacked the camp of an army tank battalion, one of the last bases still controlled by government forces since militants drove army special force units out of Benghazi months ago.
Later war planes, belonging to forces allied to Haftar, could be heard bombing suspected Islamist positions, residents said. On Tuesday, Haftar had promised to "liberate" Benghazi.
[With Reuters]