Yazidi female fighter recalls horrifying ISIS massacre
Robjon managed to escape to Mount Senjar, but her family was trapped under ISIS' siege
A Yazidi woman, who believes she has lost her family in a massacre in which Islamic State of Iraq and Syria (ISIS) militants reportedly killed hundreds of the ethnic minority community in northern Iraq, has taken up a fight against the militants group and is determined to reclaim her land back.
"I will never forgive! I have promised myself that before I die I will return to Shengal," Robjon told Kurdish journalist Khazar Fatemi in a video report published in the Huffington Post, referring to her hometown, from which she managed to escape before it was completely seized by ISIS.
She has taken up arms with YPG, the national army of Syria's Kurdistan, and joined their fight against the group.
"They had killed some 600 men and kidnapped the women and kids," Robjob said.
ISIS revealed earlier this month that it was selling Yazidi women, which were kidnapped earlier.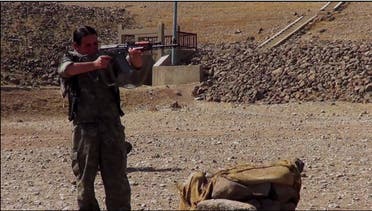 Recalling the horrifying events prior to the massacre that took place last August, Robjon said that she managed to escape with others to Mount Sinjar located west to Iraq's Mosul, but her entire family was stuck in the town.
"When I got to the [Sinjar] mountain I called them. They said 'we are surrounded we can't get out!'... The next time I called they didn't answer," she said with tears in her eyes.
"A few days later we were informed that everyone in our village had been killed," she added.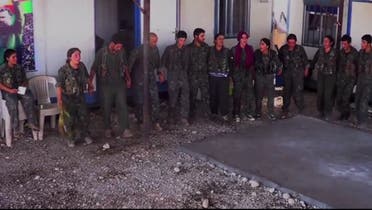 The young woman has been playing tough and trying to remain focused on her fight, but it was clear that her heart was burning just by the thought of her family.
"I always feel like crying. I hide behind a wall so my friends won't see me, and I cry… I think about my little sister and wonder what ISIS did to her," she said.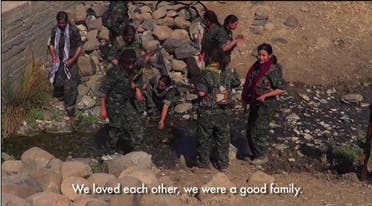 Further threat
ISIS militants besieged about 700 Yazidi families in Mount Sinjar, where those who escaped had sought refuge, security sources told Al Arabiya News Channel last Monday.
Meanwhile, head of the spiritual council for Yazidis, Tahsin Ali Saeed, pleaded the international community to help protect his people from "extermination."