Tunisian forces kill six after standoff with militants
The violence comes two days before parliamentary election
Tunisian security forces on Friday killed six people, including five women, after a standoff with Islamist militants near the capital, the authorities said.

Interior ministry spokesman Mohamed Ali Aroui told reporters at the scene that one militant was among the dead while another was hospitalized along with two children who were inside the house.
The minister said one of the children, a girl, had suffered a head injury but did not elaborate on their conditions.

"Special forces approached the kitchen where the terrorists were hiding," Aroui said. "The women came out of the kitchen firing," he added, describing both the men and women at the house as "terrorists."
An Thursday a policeman was killed in a firefight with the suspects and another was wounded.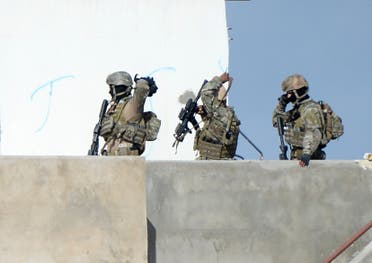 The house in Oued Ellil, a suburb of Tunis, was surrounded earlier the same day following the arrest of two suspected militants in Kebili, 500 kilometers (300 miles) south of the capital.

Details about the raid and what the authorities had suspected the group of doing were still unclear, though officials said the militants were linked to others arrested earlier in the week.

Another man and one other woman were arrested at the house during the raid.

Aroui said information showed the women had been planning to travel through neighboring Libya and then to Syria, where Islamist militants including Islamic State and al Qaeda affiliates are fighting.

Tunisia has long been a source of jihadis in foreign conflicts, from the Afghan wars against the Soviets through to the Iraq war after the 2003 U.S. invasion.

Tunisia has struggled to subdue hardline Islamists and jihadis opposed to the transition to democracy following the revolt against Ben Ali, and the military has cracked down hard on militants in the run up to Sunday's election.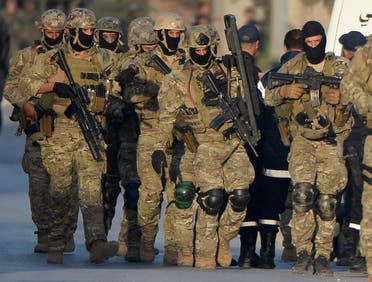 Security and economic advances are major concerns for Tunisians voters, who hope the vote will consolidate democracy in the country after a year of political disputes that almost scuttled the transition process.

Since the 2011 revolt, Tunisia has approved a new constitution and reached a compromise among rival groups, unlike Libya and Egypt where Arab Spring uprisings brought about changes of government but also deeper, often violent polarization.

But Tunisia's "Jasmine revolution" also opened the way for hardline Islamist and ultraconservative groups to ascend after years of jail, exile and repression under Ben Ali.

Among militant groups operating in Tunisia is Ansar al Sharia, which the United States considers a terrorist organization and blames for orchestrating the storming of the U.S. embassy in Tunis in 2012.

Prime Minister Mehdi Jomaa said recently Tunisia has arrested some 1,500 suspected jihadists this year, among them hundreds who fought in Syria's civil war and could pose a danger at home since their return.

[With AFP and Reuters]