Sisi vows decisive measures after deadly Sinai attack
He also said that 'the purpose of terrorist activities in Sinai was to overthrow the Egyptian state'
Egyptian president Abdel Fattah al-Sisi vowed on Saturday to take decisive security measure in Sinai and on the border with the Gaza strip as he blamed foreign actors for a terrorist attack that killed 30 Egyptian soldiers on Friday.
"We have already taken security measure in Sinai and on the border with the Gaza Strip," he said in a televised address as he was flanked by members of the military.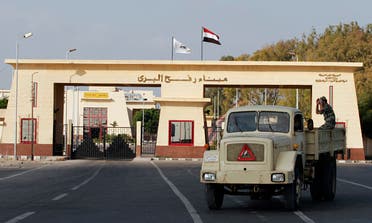 He also said that "the purpose of terrorist activities in Sinai was to overthrow the Egyptian state," adding that the peninsula would have been a den for terrorism if it wasn't for the military operation.
The military chief-turned President also reiterated that the fight against terrorism in Sinai would be lengthy.
Egypt was set to close the Rafah border crossing with Gaza Strip as part of an emergency measure in the wake Friday's attack, the deadliest attack on Egyptian security forces in the Sinai Peninsula.
Egyptian authorities declared the three-month state of emergency Friday in the north and center of the Sinai Peninsula after a suicide car bombing killed 30 soldiers, the presidency said.
The measures would begin on Saturday at 0300 GMT "for a duration of three months," the presidency said in a statement.
The decision was also taken to close the Rafah crossing into the Gaza Strip.
"The army and the police will take all necessary measures to tackle the dangers of terrorism and its financing, to preserve the security of the region... and protect the lives of citizens," the presidential decree said.
The bombing was carried out by a suspected Islamist militant who rammed the checkpoint with a vehicle packed with explosives, security officials said.
Gunmen also shot dead an officer and wounded two soldiers on Friday at another checkpoint south of El-Arish, Agence France Presse quoted security officials as saying.
Since Mursi's ouster, more than 1,400 of his supporters have been killed in a crackdown by the authorities.
Over 15,000 others have been jailed including Mursi and the top leadership of his Muslim Brotherhood, and more than 200 sentenced to death in speedy trials.
(With AFP)