Iraqi govt, Kurds drive ISIS from two towns
Meanwhile, Iraqi security forces have retaken most of the town of Jurf al-Sakhar near Baghdad from ISIS militants
Islamic State of Iraq and Syria (ISIS) militants were driven out of two Iraqi towns on Saturday, breaking their grip in the embattled country after months of fighting, according to security officials.
After weeks of fighting Iraqi Kurdish forces on Saturday retook the northern town of Zumar, while Iraqi government forces and Shiite militias took control of the strategic town of Jurf al-Sakhar just south of Baghdad.
Infographic: Iraqi govt, Kurds drive ISIS from two towns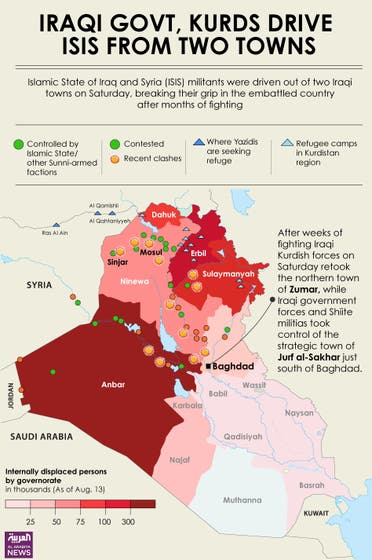 "We have managed to push out Islamic State terrorists from the town of Jurf al-Sakhar today and now we are raising the Iraqi flag over the government offices," Reuters quoted provincial governor Sadiq Madloul as saying.
The officials said the Sunni insurgents fled to two nearby villages and were still attacking with sniper fire and mortars and government forces were preparing for a major overnight operation against them.
A victory could allow Iraqi forces to prevent the Sunni insurgents - positioned in several locations around Baghdad - from edging closer to the capital, sever connections to their strongholds in western Anbar province and stop them infiltrating the mainly Shiite south.
Major General Karim Atuti of the Peshmerga security forces told AFP that "after clashes that began this morning and with American air support, we were able to force (ISIS) militants from the center" of Zumar and 11 surrounding villages.
Zumar is located some 60 kilometers northwest of Mosul, the first city to fall in an ISIS offensive in June.
Sparking offensive
Federal troops withdrew from Zumar, and Peshmerga forces occupied it. But ISIS drove them out during a new campaign in August, pushing them back toward regional capital Erbil.
That helped to spark an U.S.-led air campaign in Iraq that now involves several countries and has been expanded to Syria.
Kurdish forces have since regained some ground, but it has been slow going, and ISIS still holds significant areas in northern Iraq and elsewhere in the country.
Despite heavy fighting still ahead in Iraq, the Kurds plan to deploy up to 200 Peshmerga to help defend Kobane in neighboring Syria, a Kurdish border town under assault by ISIS.

(With AFP and Reuters)