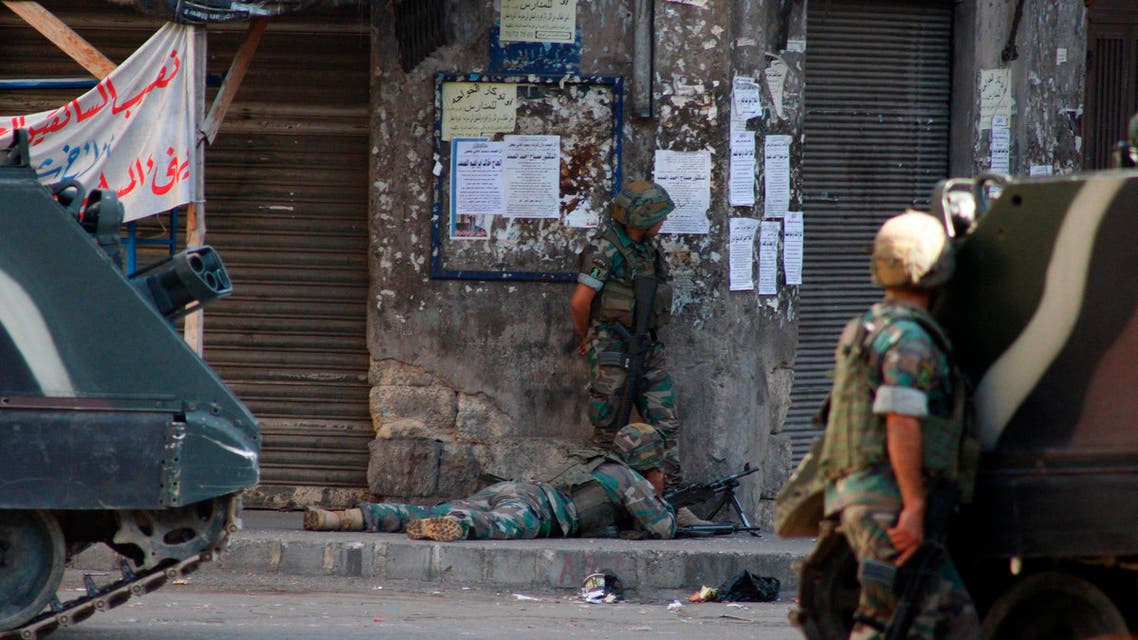 Syria Qaeda threatens Lebanon prisoners over Tripoli unrest
The army's offensive against the militants sparked attacks on troops across the Tripoli region
Al-Qaeda's Syrian affiliate threatened Sunday to kill Lebanese soldiers it captured in fighting in August unless the army halts operations against Islamist militants in Lebanon's second city Tripoli.
Meanwhile, attacks targeting two Lebanese army tanks kill four soldiers, sources told Al Arabiya News Channel, while gunmen kidnapped a soldier from his home in the port city, the second seized in northern Lebanon since Saturday.
Al-Nusra Front, which has previously executed one captive Lebanese soldier, issued its threat after troops cleared militants from Tripoli's historic bazaar district Saturday in an operation that left one civilian and a militant dead.
Many of the militants managed to withdraw to the Bab al-Tebbaneh district of the city, a Sunni Islamist stronghold, where troops were engaged in heavy fighting on Sunday, an AFP correspondent reported.
The army's offensive against the militants -- who are suspected of having links to Al-Nusra -- sparked attacks on troops across the Tripoli region that left six dead.
Bringing closure
"We warn the Lebanese army against any military escalation targeting Sunnis in Tripoli," the Al-Nusra statement said.
"We call on it to lift its siege and accept a peaceful solution, or else we will be forced in the coming hours to bring closure to the issue of the soldiers we are holding hostage, given that they are prisoners of war."
The Al-Qaeda affiliate initially threatened to start executing its prisoners from 0800 GMT but then issued a second statement extending the deadline to 1200 GMT.
"At that time the execution can still be postponed or cancelled if the army agrees" to our demands, the later statement said.
Al-Nusra and rival jihadists of the Islamic State group captured some 30 Lebanese soldiers and police in fighting around the eastern town of Arsal, close to the Syrian border, in August.
IS has since executed two of its captives.
Al-Nusra has previously demanded that in return for the release of its prisoners, Shiite militant group Hezbollah end its intervention in Syria on the side of President Bashar al-Assad's regime and that Lebanon free jailed Islamists.
The Lebanese government has so far rejected the terms.
Islamist gunmen in Tripoli have carried out repeated attacks against the army, accusing it of cooperating with Hezbollah.
The August fighting in Arsal -- a Sunni enclave within the mainly Shiite Bekaa Valley border region -- was the most serious in Lebanon since the Syrian conflict erupted in March 2011.
The army said of warrant officer Fayez al-Ammuri was abducted by gunmen who stormed his home in Bab al-Tebbaneh on Sunday morning.
Ammuri is the second soldier kidnapped by gunmen at the weekend, after a comrade was captured on a highway outside Tripoli on Saturday evening.
The army said it foiled an attempt by unidentified gunmen late on Saturday to abduct five of its soldiers in the Akkar region of northern Lebanon.

(With AFP)