Syria's moderate rebels clash with al-Qaeda
Al-Qaeda-linked al-Nusra Front reportedly seized several areas in Idlib Province
Moderate Syrian rebels clashed on Tuesday with al-Qaeda-linked group the al-Nusra Front in several areas in Idlib province, activists said.

Syrian opposition activists and a military commander said the Nusra Front had taken several villages in Idlib from the Syria Revolutionaries' Front led by Jamal Maarouf, a prominent figure in the moderate opposition to President Bashar al-Assad, according to Reuters news agency.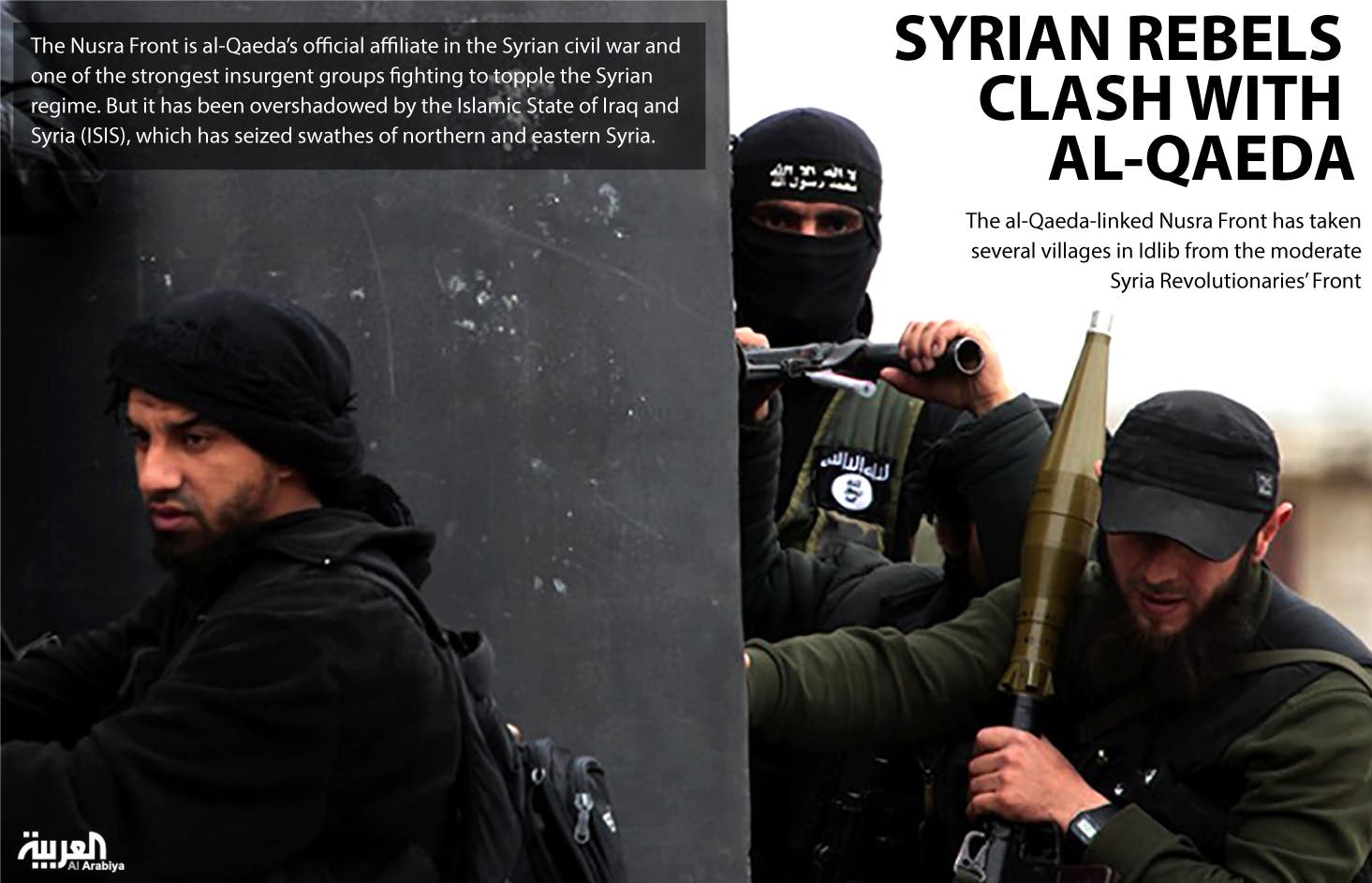 "This has happened before and we came through it. But this time the mobilisation is very large," said a military official in the Syria Revolutionaries' Front.

Twenty of the group's fighters had been killed on Monday, the official said.

"Jamal remains steadfast," said the official, who declined to be named because he is not an official spokesman for the group. Speaking via Skype, he added that the Syria Revolutionaries' Front had taken 25 Nusra fighters prisoner.

The Nusra Front is al-Qaeda's official affiliate in the Syrian civil war and one of the strongest insurgent groups fighting to topple Assad. But it has been overshadowed by the Islamic State of Iraq and Syria (ISIS), which has seized swathes of northern and eastern Syria and is being targeted by U.S.-led air strikes.

The official said ISIS fighters were reinforcing the Nusra Front in the assault. But the Syrian Observatory for Human Rights, which tracks the civil war, said it was another hardline group, Jund al-Aqsa, that was providing the backup.

"Nusra is making a lot of progress," said Rami Abdulrahman, who runs the Observatory.

The Syria Revolutionaries' Front is one of the biggest groups in the Western-backed, moderate opposition to Assad. The United States plans to expand military support to the moderate opposition as part of its strategy to defeat Islamic State.

Yousef Abu Hillal, a secular activist in the Idlib area, said the advance marked the biggest setback to date for Maarouf's group, which is loosely defined as part of the "Free Syrian Army."

The Free Syrian Army is a term used to refer to dozens of groups fighting to overthrow Assad. They have little or no central coordination and are often in competition with each other.

"This is a blow to the Free Syrian Army rebels led by Maarouf and opens the way for Nusra to expand further in the Idlib countryside " said Abu Hillal.
[With Reuters]