Twenty Turkish miners trapped in mine collapse: official
There were 40 miners underground at the time of the accident in the district of Ermenek
Some 20 miners were trapped in a coal mine in southern Turkey on Tuesday after a portion of the mine collapsed due to a build-up of water, officials said.

There were 40 miners underground at the time of the accident in the district of Ermenek in the southern province of Karaman, the regional governor Murat Koca told Turkish television.
Infographic: Turkish miners trapped in mine collapse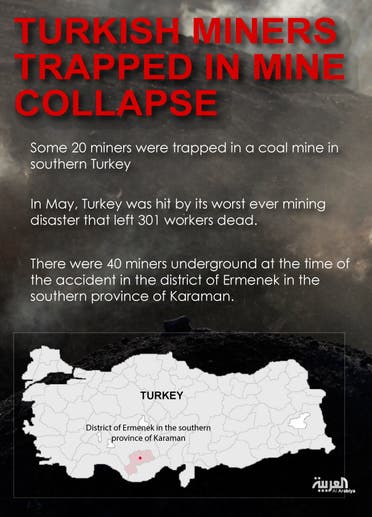 "The gallery they were working in was flooded by water. There are still 20 people in the mine," he added, rejecting earlier reports that the accident was caused by an explosion.

Turkey was in May hit by its worst ever mining disaster that left 301 workers dead at a mine in Soma in the west of the country, with the government coming under heavy criticism for its response.

Energy Minister Taner Yildiz and Transport Minister Lutfi Elvan were already on their way to the scene of the latest disaster, the official Anatolia news agency reported.