Libyan nude statue 'mysteriously' removed
The bronze statue disappeared on Tuesday 'in mysterious circumstances'
Libya's internationally recognized government criticized on Wednesday the removal from a Tripoli roundabout of an iconic nude statue that dates back to the Italian colonial era.
The bronze statue, known locally as "the gazelle" for its depiction of a nude stroking the animal, disappeared on Tuesday "in mysterious circumstances", according to Tripoli's municipal council.
The sculpture was taken from one of the capital's busiest intersections "at dawn on Tuesday by unidentified men who were probably offended by its nudity for religious reasons," a witness told AFP.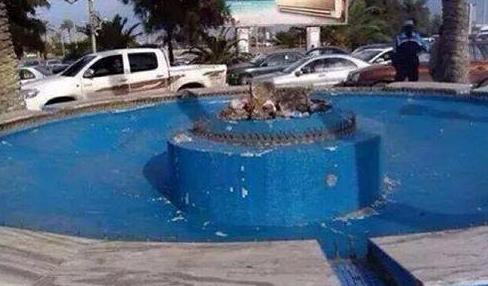 The government of Prime Minister Abdullah al-Thani has taken refuge in the country's east to escape a mainly Islamist militia coalition which seized control of Tripoli at the end of August.
No control
It said in a statement that "reactionaries and terrorists" were able to steal the statue "because the state is absent and has no control over the capital."
The culture ministry added: "This act indicates a backward mind, reactionary vision and a total absence of culture on the part of the assailants."
The statue, sculpted by an Italian artist in the early 1930s when Libya was an Italian colony, was damaged last month after being struck by a stray rocket.
Armed militia had threated to destroy the sculpture, as well as the capital's many cultural artefacts.
Witnesses also reported hearing a "big explosion" in Tripoli on Monday night at the site of a 700-year-old religious monument.
Libyan authorities have struggled to assert control across a country awash with weapons and powerful militias which ousted longtime autocratic leader Muammar Qaddafi in a 2011 revolt.