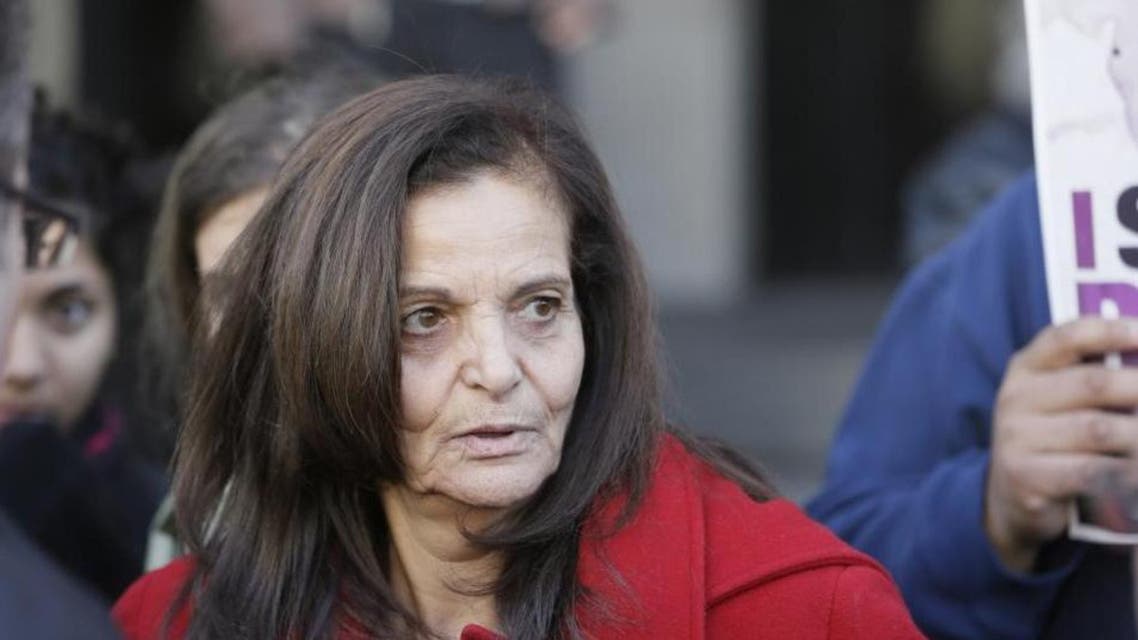 Palestinian activist guilty in U.S. immigration case
Rasmieh Yousef Odeh, 67, was charged for not revealing an Israeli military court conviction for several bombings in 1969
A U.S. federal jury found a Palestinian immigrant charged with immigration fraud guilty on Monday for failing to disclose her conviction and imprisonment in a Jerusalem supermarket bombing that killed two people.

Rasmieh Yousef Odeh, 67, was charged for not revealing an Israeli military court conviction for several bombings in 1969.
She served 10 years before being released in a prisoner swap with the Popular Front for the Liberation of Palestine.

Odeh is associate director of Chicago's Arab American Action Network. She is widely respected in Chicago for her work with immigrants, especially Arab women.

The criminal case against her angered pro-Palestinian activists who accused the U.S. government of trying to silence critics of Israel. Dozens of supporters traveled from Chicago to watch the trial, either in the courtroom or in a separate courtroom that carried a video feed. Many also gathered outside the downtown courthouse and chanted slogans, carried signs and held Palestinian flags.

Odeh had said Israeli authorities tortured her to get a confession. But U.S. District Judge Gershwin Drain barred reference to that at trial. He said what happened in Israel was not relevant to whether she lied on the citizenship form.

"I think your verdict is a fair and reasonable one based on the evidence that came in," Drain told the jury after the verdict was announced.

Gershwin Drain ordered Odeh held without bond until her March 10 sentencing.

Defense attorney Michael Deutsch had argued Odeh wasn't a flight risk. He said she'd earlier turned down an opportunity to plead guilty and leave the U.S.

Outside, Odeh addressed supporters, many in tears, and told them to be "strong." As she spoke, they cheered and chanted her name, and responded with "naam," the Arabic word for "yes."

"I didn't lie," she told The Associated Press, adding "I felt the verdict is not justice. ... The government did not allow us to defend ourselves."

Odeh faces up to 10 years in a U.S. prison and loss of her U.S. citizenship.

"An individual convicted of a terrorist bombing would not be admitted to the United States if that information was known at the time of arrival," U.S. Attorney Barbara McQuade said in a statement. "Upon discovery that someone convicted of a terrorist attack is in the United States illegally, we will seek to use our criminal justice system to remove that individual."

Deutsch said he was upset that jurors spoke to government lawyers for a half-hour after the verdict but declined to meet with defense attorneys. He also was displeased that the judge took the "very unusual" step of complimenting the jurors on their verdict.

"That was a window into the judge's thinking about this trial," he said. "We feel we have some very strong issues for appeal, and we hope somebody will listen to us."

Odeh and Assistant U.S. Attorney Jonathan Tukel clashed during her testimony last week when she insisted she didn't believe the criminal history questions extended beyond the U.S.

She was interviewed in 2004 by a Detroit immigration officer, Jennifer Williams, who told jurors she always tells citizenship applicants that criminal history applies to "anywhere in the world." Odeh, however, testified that Williams didn't use those words.

"I remember exactly what she said. ... She didn't add questions," Odeh said.

During closing remarks, Deutsch said there was plenty of reasonable doubt for the jury.