Syria government airstrikes kill at least 14
During the incident, at least 14 people were killed, including five children and three women
Syrian aircraft dropped crude explosives on a neighborhood in the northern Aleppo province on Tuesday, killing at least 14 people, including children, and wounded another 20, activists said.
Infographic: Syria government airstrikes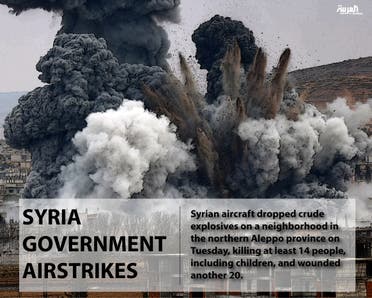 The Qabr al-Inglizi neighborhood was struck by several so-called barrel bombs, according to the Aleppo Media Center, an activist collective, and the Britain-based Syrian Observatory for Human Rights, which relies on activists on the ground in the war-torn country.

Syrian aircraft have dropped hundreds of barrel bombs on rebel-held neighborhoods over the course of the civil war, killing thousands of civilians and causing widespread destruction. The crude tactic -- which often involves hurling explosives-filled canisters from helicopters -- has been widely criticized by human rights groups because the bombs cannot be precisely targeted.

The Observatory said at least 14 people were killed, including five children and three women, and that the death toll was likely to rise because more people were buried under the rubble. It said the bombs struck an ambulance and several microbuses.

"Bashar you dog! You oppressor! May this happen to your children!" a man said in a video purporting to show the aftermath of the attack, referring to President Bashar Assad. "These are children, not terrorists!" he said. The video, which showed what appeared to be the bodies of two slain children, appeared genuine and corresponded with The Associated Press' reporting.

Syria's war, now well into its fourth year, began as an uprising against the Assad family's four-decade rule. It has since become a complicated civil war, and activists estimate some 200,000 people have been killed.