Israel ups funding for security of illegal settlers
Israeli parliament committee approves additional $5.2 million to fund security in Jewish settlements in East Jerusalem
An Israeli committee has recently approved increasing the money spent on securing Jewish settlements in occupied East Jerusalem, reported the Israeli Haaretz newspaper on Sunday.

The paper said the Finance Committee of the Knesset, Israel's parliament, had recently approved an addition 20 million shekels ($5.2 million) to fund settlements in East Jerusalem, bringing the total spent in 2014 to more than 100 million shekels.
Israel ups funding for security of illegal settlers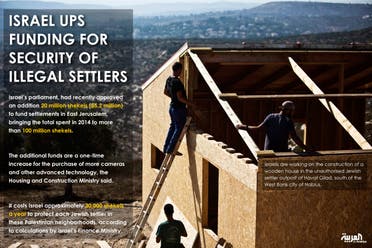 The additional funds are a one-time increase for the purchase of more cameras and other advanced technology, the Housing and Construction Ministry said.
It costs Israel approximately 30,000 shekels a year to protect each Jewish settler in these Palestinian neighborhoods, according to calculations by Israel's Finance Ministry, the daily reported.
Israel has occupied East Jerusalem since 1967 when in captured the city, in a move that is not recognized by the international community.
The issue of illegal settlements in East Jerusalem and their increasing numbers often fuels tensions between Israelis and Palestinians. Both the United States and European Union have criticized Israeli plans to build further settlements in the East Jerusalem.
Israel's settlement building in the occupied West Bank and East Jerusalem are deemed illegal under international law.
Haaretz said the Housing Ministry has been funding the security of settlers through private security firms since the 1990s. Security personnel protect compounds usually purchased by right-wing associations in the heart of densely populated Palestinian areas, the daily said.
Israel's Housing Ministry currently employs 370 security guards in East Jerusalem, the daily said. The personnel provide services to Jewish settlers in the Old City's Muslim Quarter as well as in the neighborhoods of Abu Tor, Silwan, Ras al-Amud, A-Tur, Sheikh Jarrah and the Beit Orot Yeshiva on the Mount of Olives, the daily said.
Shlomo Ben-Eliyahu, the Housing Ministry director general, said the extra funding to the budget would not be permanent, citing the ability to reduce costs because of the installation of additional security cameras. The cost would come down to 65 million shekels, he was quoted as saying.
The number of Jews living in these areas is estimated at less than 3,000.