Israel shoots dead first Gazan since truce
The shooting is the first since an August ceasefire ended a 50-day war between Israel and Palestinians
A Palestinian farmer was killed after Israeli troops opened fire near the border in northern Gaza on Sunday in what is considered the first deadly shooting since an August ceasefire ended a 50-day bloody war between Israel and the Palestinians.

Emergency services spokesman Ashraf al-Qudra identified the dead man as Fadel Mohammed Halawa, 32, saying the bullet had hit him in the back, Agence France-Presse reported.
Qudra said the bullet appeared to have been fired from a nearby army watchtower at a man who was farming land near the border fence.
Infographic: Israel shoots dead first Gazan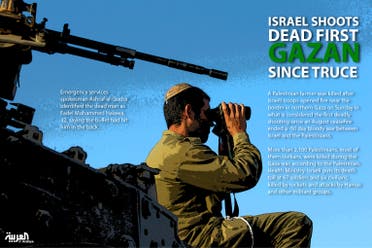 One of Halawa's relatives told Reuters he had been searching for song birds, which nest in trees near the Israeli border and command high prices in Gaza markets.

The Israeli army said two Palestinians had approached the fence and had ignored calls to halt, prompting troops to fire warning shots in the air.

"Once they didn't comply, they fired towards their lower extremities. There was one hit," a spokeswoman said.

The army did not confirm the man's death and had no comment on reports he was shot in back.

It was the first time a Palestinian from Gaza had been killed by Israeli fire since a seven-week war between Israel and Hamas militants ended with an Egyptian-brokered ceasefire on August 26.

Following the initial truce agreement, the sides were supposed to have resumed talks on some of the thornier outstanding issues within a month, but the deadline has been repeatedly delayed.
More than 2,100 Palestinians, most of them civilians, were killed during the Gaza war, according to the Palestinian Health Ministry. Israeli puts its death toll at 67 soldiers and six civilians, killed by rockets and attacks by Hamas and other militant groups.

(with Reuters and AFP)