Sudan asks UNAMID to shut human rights office in Khartoum
The mission's attempts to investigate charges that government troops raped 200 women and girls in the Darfur village of Tabit
The U.N.-African Union mission in Darfur said Tuesday that Sudan has asked it to close its human rights office in Khartoum, as tensions rise over investigations into an alleged mass rape.
The mission's attempts to investigate charges that government troops raped 200 women and girls in the Darfur village of Tabit last month have angered Khartoum.
UNAMID said it received a formal request "from the Government of Sudan to close the mission's human rights office in Khartoum on November 23. The letter mentioned that it was a new office".
Sudan to shut human rights office in Khartoum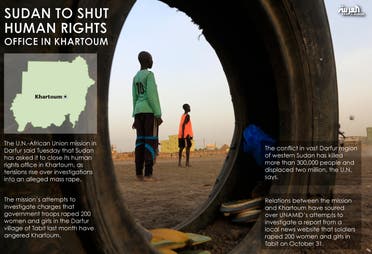 The mission "has always had a liaison office composed of a number of sections including the human rights section," its press department told AFP.
It said it was "working to clarify" the situation with the government.
Sudan's foreign ministry confirmed it had asked the office to close, saying its role was "outside of their mandate".
But spokesman Yousif al-Kordofani said the ministry and UNAMID had exchanged letters about the issue before the Tabit affair.
The UN mission was set up in 2007 to protect civilians and secure aid to Darfur, which has been wracked by conflict since 2003 when ethnic insurgents rebelled against the government.
Relations between the mission and Khartoum have soured over UNAMID's attempts to investigate a report from a local news website that soldiers raped 200 women and girls in Tabit on October 31.
When UNAMID visited Tabit it found no evidence of rapes but an internal report said Sudanese soldiers had intimidated villagers to quash the allegations as the peacekeepers investigated.
Khartoum summoned UNAMID's acting head and said last week it had asked the mission to form an "exit strategy".
The foreign ministry denied Tuesday that the move was motivated by the alleged attack in Tabit, but had been discussed for years.
But in the same statement, Abdullah al-Azraq, the under-secretary for the foreign minister, accused UNAMID forces of "large and worrying abuses and violations" in Darfur during the years of its mandate, including rape.
"We observed incidents in which UNAMID soldiers raped women and the mission took no measures to hold them accountable and did not make them leave the country, which raised tensions," Azraq said in the statement.
He did not elaborate any further on the allegation, and the U.N.-AU mission did not immediately comment.
The conflict in vast Darfur region of western Sudan has killed more than 300,000 people and displaced two million, the U.N. says.
President Omar al-Bashir is wanted by the International Criminal Court for alleged war crimes in the region.