Clashes ensue after Egypt court clears Mubarak of charges
Mubarak says he 'did nothing wrong' after a court dismissed a murder charge against him over a deadly crackdown on protesters in 2011
Clashes between Egyptian police and protesters in central Cairo on Saturday killed one person after a court dropped a murder case against ousted strongman Hosni Mubarak, Agence France-Presse reported a security official as saying.
The dead man had been shot, either with live ammunition or birdshot. "He had been wounded in the clashes," a health ministry official told AFP.

Egyptian police initially fired tear gas at more than 1,000 protesters who gathered to denounce the court's decision.
An AFP correspondent said police also used water cannons and chased protesters in side streets near Tahrir Square.
Police, some in plain clothes, chased protesters on foot and in armored vehicles, putting at least 20 arrested demonstrators in vans and driving off, the correspondent said.
The protest appears to have started with secular leaning activists but was joined by supporters of the blacklisted Muslim Brotherhood movement.
Mubarak: 'I did nothing wrong'
Mubarak expressed on Saturday relief when a court dismissed a murder charge against him over a deadly crackdown on protesters in 2011 as well as two other offenses related to graft and corruption.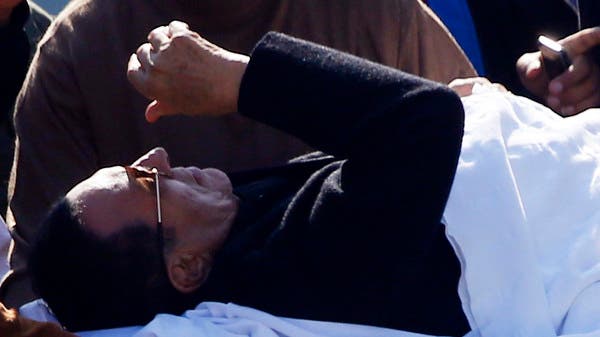 In a telephone interview with a television channel from the military hospital where he is serving a separate three-year sentence for corruption, Mubarak said "I did nothing wrong at all."
"When I heard the first verdict I laughed. I said: 'Ha!'" Mubarak said of the 2012 sentencing.
The court also acquitted Mubarak's seven security commanders over the deaths of some almost 900 protesters killed in the 18-day uprising that forced Mubarak to step down on Feb. 11, 2011.
The trial, however, was concerned only with the killing of 239 protesters, whose names were cited in the charges.
The 68-year-old also praised his three-decade rule, which was marred by police abuses and corruption, which intensified in the decade before his overthrow.
Apparently referring to economic growth, he said: "The last 10 years showed more results than the 20 years before… and then they turned against us."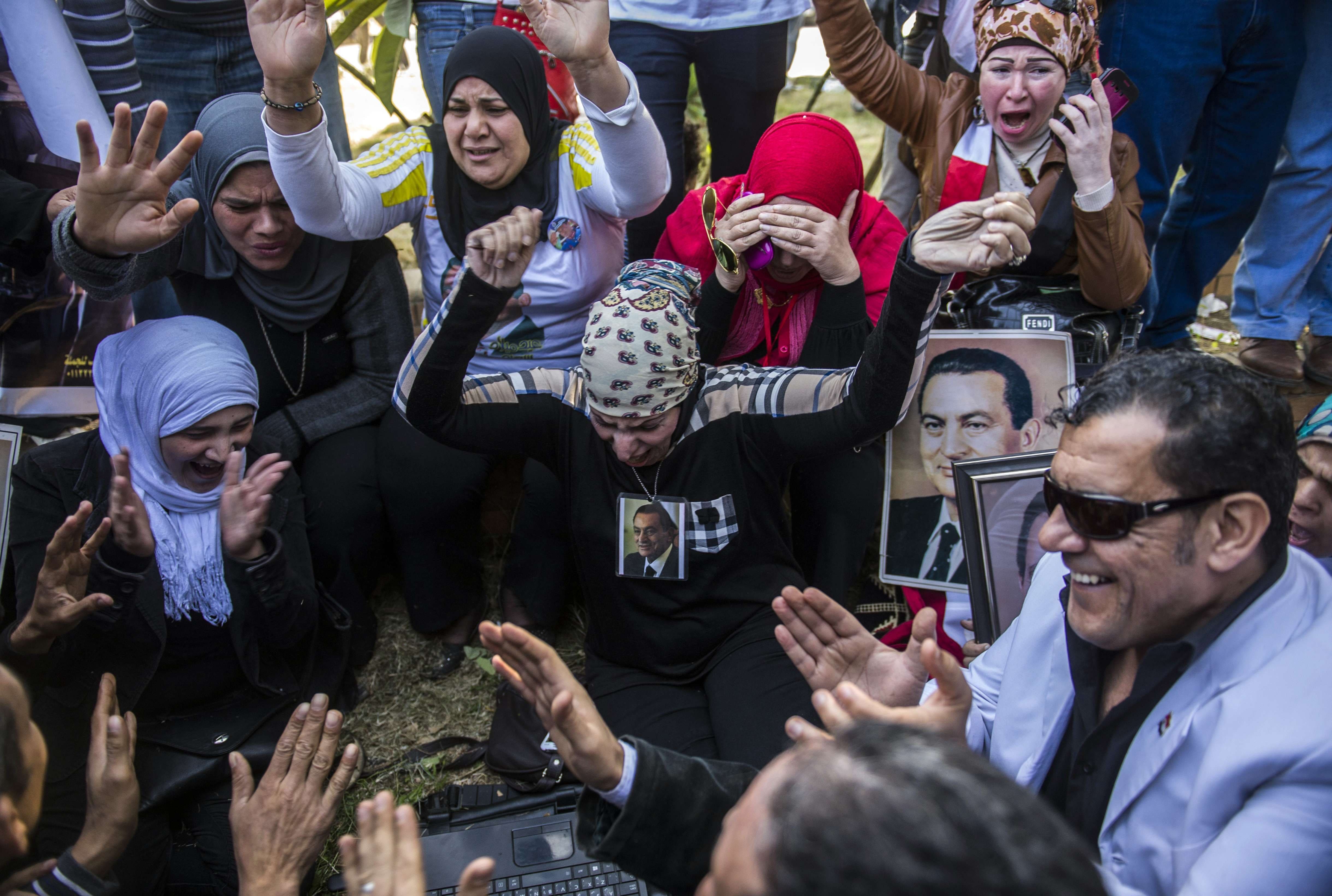 Acquitted in two other cases
Mubarak and a former oil minister was also cleared of graft charges related to gas exports to Israel. It was overturned on a technicality.
He was also acquitted of corruption charges that he faced along with his sons Alaa and Gamal - his one-time heir apparent - over a statute of limitations.
The case involves their purchase of luxury villas in a Red Sea resort at a vastly discounted price, something that the prosecution had said amounted to bribery. The two sons face a separate trial on charges of insider trading.
Saturday's verdict concludes Mubarak's retrial along with his two sons, his security chief, Habib el-Adly, and six top security commanders, who were all acquitted. Also acquitted was wealthy businessman Hussein Salem, a longtime Mubarak friend tried in absentia.
Supporters and opponents
While his supporters cheered for his acquittal outside the court, dozens of demonstrators gathered at Cairo's Tahrir Square – the focal point of the Jan. 25, 2011 revolution which toppled his regime – to protest the court's decision.
"The people demand the toppling of the regime," the protesters chanted, a similar slogan from the 2011 revolution.
The security forces, which were was already deployed on Friday in anticipation of Islamist opposition marches, closed off the square.
"There is no justice for the poor," Ramadan Ahmed, whose son Mohammad was shot dead in the Mediterranean port city of Alexandria during the uprising told the Associated Press. "This is Mubarak's law!"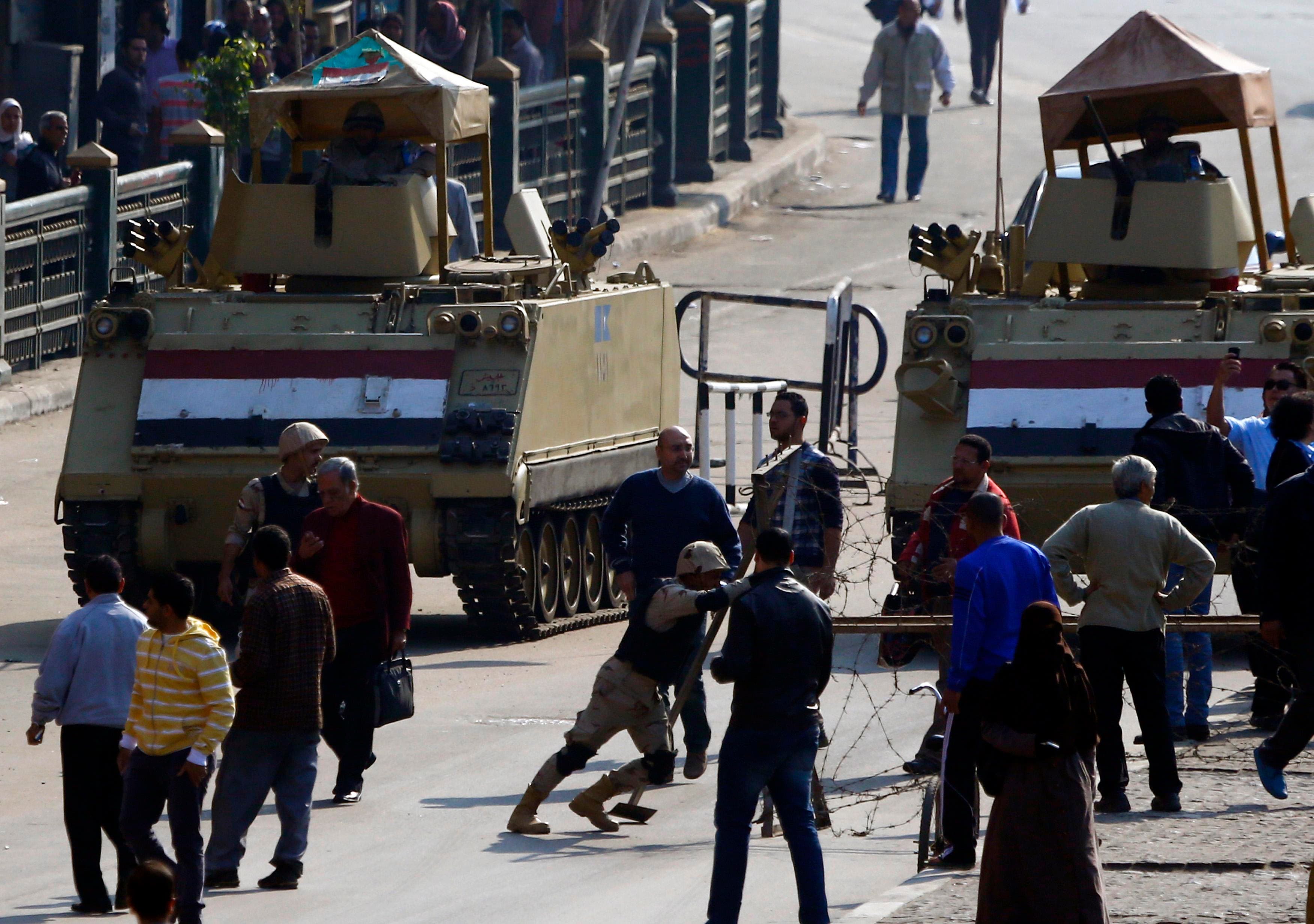 What does the judge say?
The court cited the "inadmissibility" of the case due to a technicality.
Judge Mahmoud al-Rashidi said he dismissed the case against Mubarak because his May 2011 referral to trial by prosecutors ignored the "implicit" decision that no criminal charges be filed against him when his security chief and six of his top aides were referred to trial by the same prosecutors two months earlier, the Associated Press reported.
Families of wounded protesters and those who were killed in the 2011 revolt should be compensated, Rashidi said.
He also explained that the court made its ruling as per evidence placed before it and that Mubarak would be judged by history and by God.
Politicized decision?
After the toppling of Mubarak, Egypt witnessed continued unrest, including the army's overthrow of his democratically-elected Islamist successor Mohammad Mursi last year following mass protests.
Observers lamented that Egypt's 2011 revolution seemed to backtrack after the former military chief Abdul Fattah al-Sisi became the country's president in March 2014. Several of the leading activists who spearheaded the anti-Mubarak uprising have since been jailed over subsequent protests.
The continuous subduing of dissidents did not help but give critics and activists more reasons not to trust Egypt's judiciary, who say that the country is becoming according to them more similar to the way it was during Mubarak's era.
In addition, Mubarak-era figures are slowly being cleared of charges and a series of laws curtailing political freedoms have raised fears among activists that the old leadership is regaining influence.
"This is a political verdict. The judiciary has been procrastinating for four years so they could clear him after hope had been lost," the father of Ahmed Khaleefa, 19, who was killed in 2011, told Reuters outside the court.
'Like bullets'
"The verdict hit us like bullets. I consider [the fact] that my son Ahmed died today."
However, Ahmed Mahran, professor of law and director of the Cairo Center for Political and Legal Studies, told Al Arabiya News that "we cannot absolutely know what had happened in the court to claim these verdicts were politicized."
But Mahran said the court acted according to Egypt's three different consecutive constitutions in the past three years and was "vigilant to comply with the independence of the judiciary."
"Egypt's three constitutions contained collection of judicial, criminal and constitutional principles, which the court should comply with. They include the freedom for defense, and the right for trial, and everyone is innocent before guilty," he said.
"The court applied the law regarding the Sharm el-Sheikh trial which found that too much time had elapsed since the alleged crime took place for the court to rule on the matter," he added, referring to a previous hearing in Egypt's Red Sea city.
On the 2011 trial, the lawyer said there was no evidence to prove "Mubarak had the full knowledge over what was happening in the streets. He did not have a role in ordering the killing or abstaining from issuing orders to stop the killing."
Mahran also said that there was no evidence on whether Mubarak benefited from the alleged bribes.
"The Egyptian law had put conditions and terms for crimes for graft. Most importantly there needs to be existing profits made from the bribes, and there is no existence for such money in Mubarak's case."
He concluded: "Therefore, what we saw today regarding the court's three verdicts is either a case having too much time lapsing or there was no enough evidence."
Nearly 170 police officers and security officials put on trial in connection to the killings since 2011 have either been acquitted for lack of evidence or because they were found to have acted in self-defense. Some received short, suspended sentences.
In September, the presiding judge supposed to announce the court's decision postponed the judgment to Nov.29 saying that he did not have the time to go through thousands of case documents filed.
Today's verdict ends a long retrial after an appeals court overturned a life sentence handed down in 2012.
(With AFP, the Associated Press and Reuters)