Palestinians blame Israel for killing senior official
Palestinians, Israelis clash in West Bank on Thursday a day after Cabinet member Ziad Abu Ain died following a scuffle with Israeli troops
The Palestinians on Thursday accused Israel of "killing" a senior official who died a day earlier in a confrontation with troops during a protest march in the West Bank.

"After hearing the results of the post-mortem, the Palestinian government holds Israel fully responsible for the killing of Ziad Abu Ain," Agence France-Presse quoted the government spokesman Ihab Bseiso as telling reporters.
Meanwhile, the Israeli military said paramilitary border policemen have clashed with 60-100 rock-throwing Palestinians in the West bank city of Hebron.
Thursday's clashes come a day after Cabinet member Abu Ain died following a scuffle with Israeli troops during a protest elsewhere in the West Bank.
There were no immediate reports of injuries or arrests in the Hebron clashes.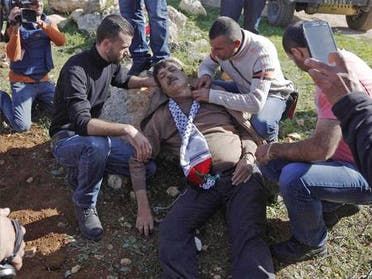 In a separate development, Israeli and Palestinian officials issued conflicting accounts over the results of an autopsy on Abu Ain's death, according to Reuters news agency.
Hussein al-Sheikh, a top Palestinian official, told Reuters that Jordanian and Palestinian doctors involved in the late night examination of the body said Abu Ein, 55, had died from being struck, inhaling tear gas and not receiving prompt medical attention.

But an Israeli medical source familiar with the autopsy results told Reuters the minister died from a heart attack which may have been brought on by the stress of being grabbed by the neck.
Abu Ain's death has stirred Palestinian anger at a time of strained relations with Israel.
Palestinian President Mahmoud Abbas called Abu Ain the victim of a "clear crime" and a "barbaric act."
He decreed three days of mourning for the minister, whose portfolio included organizing protests against Israeli settlements and the West Bank separation barrier.
(With agencies)