Collision kills 13 Egyptian fishermen in Gulf of Suez
A cargo ship which was coming from the Suez Canal hit the boat called 'Badr' but escaped
Thirteen fishermen were killed and 13 others are still missing after a passing cargo ship collided with a small boat in the Gulf of Suez early Sunday, according to Egyptian security and hospital officials.
However, the head of the fishermen's syndicate, Bakri Abu Al-Hassan, told reporters that 18 fishermen were missing.
Infographic: Egypt Boat Incident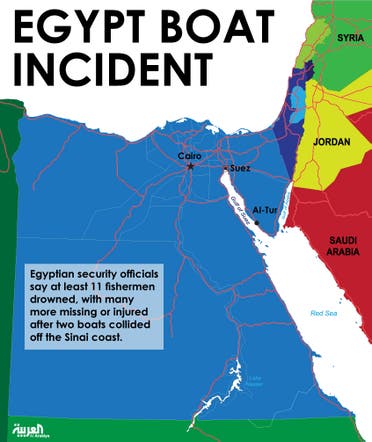 "Rescue operations have been ongoing for hours. So far 11 have survived, some are in serious conditions. Eleven bodies of dead fishermen were taken, and now we are looking for 18 more," Abu Al-Hassan said.
He added that a cargo ship which was coming from the Suez Canal hit the boat called "Badr" but escaped..
He said Badr had 40 fishermen on board, who hailed from Al-Matriya region, in the northeastern Al-Dakahlia province.
However, the Associated Press reported officials as saying that there were 45 fishermen on Badr and 23 of them are still missing.
Egyptian naval forces and other security and medical teams hurried to the shores of the town of Al-Tur, the capital of southern Sinai, to aid the fishermen.
Officials say three boats in the area were helping to search for those missing.

Egyptian officials spoke on condition of anonymity because they are not authorized to brief journalists.

(With Associated Press)