Tunisia closes largest border point with Libya
Earlier today, Haftar forces declared their control of the area extending from Boukmash, 100 km west of the Libyan capital
Tunisia closed its largest border point with Libya at Ras Gdair on Sunday following heavy clashes between the forces of retired Libyan General Khalifa Haftar and the Dawn of Libya rebel forces.
Earlier today, Haftar forces declared their control of the area extending from Boukmash, 100 km west of the Libyan capital, till the Ras Gdair border crossing.
Also earlier, Libya's eastern Es Sider oil export port stopped working due to clashes nearby, an oil official said.

The Ras Lanuf port east of Es Sider is still working, the official said, while the al-Waha Oil Company running the Es Sider port had halted work.
Omar al-Sanki, interior minister of the recognized government, said his forces had seized the western Ras Jdir border crossing, the main gateway into Tunisia.

But a Libyan border official and the mayor of Zuwara, a town east of Ras Jdir, denied this.

"Our forces...are still in control of Ras Jdir and it is not true that the borders have been taken by the army of tribes -LNA," said the mayor, Hafed Juma.

He said war planes belonging to the eastern-based government had attacked their positions, killing four people.
Also on Sunday, a commander of Libya's air force said a number of areas in east and west Libya have been "liberated," according to Al Arabiya News Channel.
Infographic: Libya oil port closure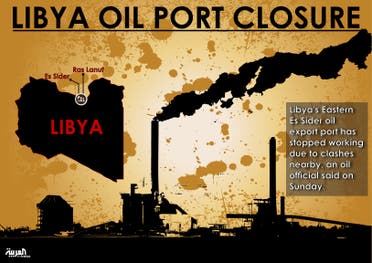 On Saturday, air strikes by forces loyal to Libya's recognized government hit targets near the eastern oil ports of Ras Lanuf and Es-Sider to stop an advance by a rival force, killing at least four people, officials said.


Workers evacuated the Es Sider port, the country's biggest export terminal with a capacity of more than 400,000 barrels a day, a worker said.

The clashes are part of a struggle in the North African country between competing governments allied to armed factions, 3-1/2 years after the ouster of Muammar Qaddafi. At stake are control of Libya's government and the country's vast oil reserves.