ISIS frees over 200 Yazidi captives
More than 200 Yazidis, among them elderly men and children, crossed out of ISIS-held territory
The Islamic State of Iraq and Syria (ISIS) extremist group has freed more than 200 captive members of Iraq's Yazidi religious minority, officials and an activist said on Saturday.
A brigadier general in the Kurdish peshmerga security forces said that more than 200 Yazidis, among them elderly men and women, children, and people with mental disabilities, crossed out of ISIS-held territory on Saturday.
Infographic: ISIS frees Yazidi captives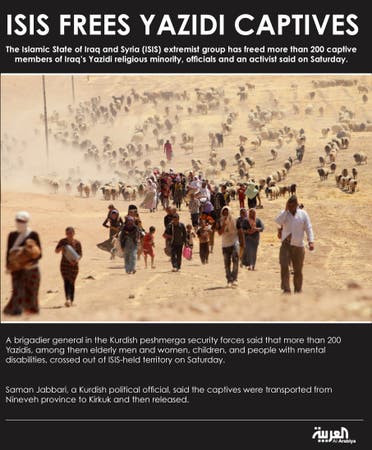 Saman Jabbari, a Kurdish political official, said the captives were transported from Nineveh province to Kirkuk and then released.
Khodr Domli, a Yazidi rights activist, put the number of freed captives at 350, and said that they were released southwest of the city of Kirkuk, the capital of Kirkuk province, and were met by Kurdish forces and officials.
ISIS spearheaded a June militant offensive that began in Nineveh and overran much of Iraq's Sunni Arab heartland north and west of Baghdad, sweeping security forces aside.
After driving south toward Baghdad, IS again turned its attention to the north, pushing Kurdish forces back, taking hundreds of Yazidis captive and twice besieging others on Mount Sinjar.
Hundreds and possibly thousands of Yazidi women and girls have been forced to marry or sold into sexual slavery by the jihadists, according to Amnesty International.
The abuse they suffered has pushed some to commit suicide, escaped captives told the rights group.
Iraqi federal forces, Kurdish troops, Shiite militias and Sunni tribesmen are fighting against ISIS, and have succeeded in regaining some ground from the militants.
But large areas, including three major cities, remain in the hands of the jihadists.