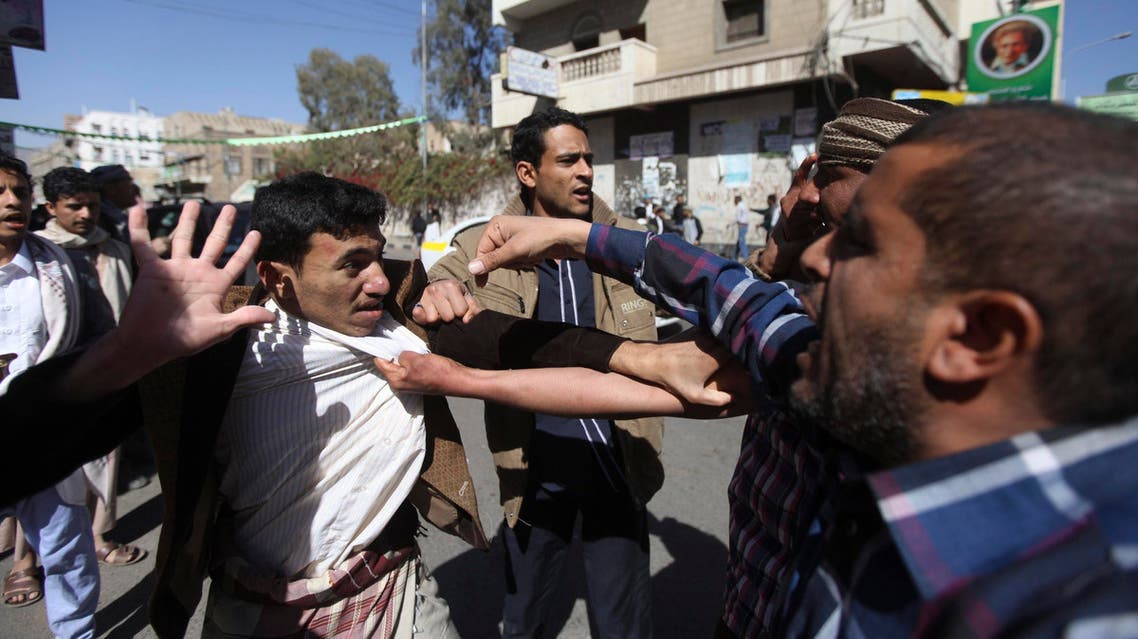 Houthis fire in air to disperse Sanaa protest
Hadi, a key U.S. ally in the fight against al-Qaeda, submitted his resignation to parliament on Thursday plunging the country into chaos
Shiite militia fired warning shots Sunday to disperse a protest against their takeover of the Yemeni capital that has plunged the country into turmoil, witnesses said.

Several of the protesters who had gathered near Sanaa University were wounded while others were arrested by the militiamen, the witnesses told Agence France-Presse.

The militiamen also attacked journalists and smashed their cameras.

They deployed heavily around the university to prevent any new protests.

Earlier on Sunday, Yemen's parliament again postponed an extraordinary session which had been due to discuss President Abdrabuh Mansur Hadi's resignation, prolonging the power vacuum gripping the country.
Parliament "has decided to postpone an emergency meeting set to take place on Sunday... to another date which will be decided later to make sure all members are informed to attend," state news agency Saba reported.
Hadi, a key U.S. ally in the fight against al-Qaeda, submitted his resignation to parliament on Thursday plunging the country into chaos after a deadly standoff with Shiite militia in control of the capital.
Lawmakers had originally been due to meet on Friday to discuss his request to step down.
But presidential adviser Sultan al-Atwani told AFP that the meeting had been delayed and that lawmakers would gather on Sunday "at the earliest," because parliament had been in recess and some members were not in Sanaa.
The speaker of parliament, Yahya al-Raie, travelled to neighboring Saudi Arabia to offer his condolences on the death of king Abdullah on Friday, Saudi state television reported.
It was unclear if he was back home on Sunday.
The 69-year-old president said in his resignation letter that the country had reached "total deadlock" and that he could no longer achieve the goals for which he had taken office.
The fall of Hadi's Western-backed government would raise fears of complete chaos engulfing Yemen, strategically located next to oil giant Saudi Arabia and on the key shipping route from the Suez Canal to the Gulf.
The Shiite Houthi militiamen, who hail from Yemen's northern highlands and who took control of most of the capital in September, surrounded the parliament building late on Thursday after seizing the presidential palace earlier in the week.
Yemen has allowed the United States to carry out a drone war against Al-Qaeda militants on its territory.
Oxfam warned that 16 million Yemenis -- more than half the population -- were in need of aid.
"A humanitarian crisis of extreme proportions is at risk of unfolding in the country if instability continues," the aid group said.