Kurdish forces drive ISIS out of Kobane
The Syrian Kurdish forces have been backed by near daily U.S.-led airstrikes around the town, known as Ayn al-Arab
U.S. Central Command on Monday confirmed claims by Kurdish forces that ISIS militants have been pushed back in the key Syrian town of Kobane.
A U.S. statement said the Kurdish militia now control 90 percent of the town.

The extremist ISIS group, which has overrun large areas of Syria and Iraq, had poured men and weapons into an offensive to secure Kobane, which is near the Turkish border.

"U.S. Central Command confirms that anti-ISIL (ISIS) forces now control approximately 90 percent" of Kobane, a statement said.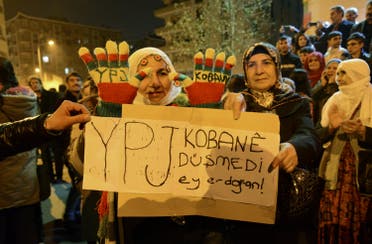 The American military, which has backed the Kurds with a steady stream of air strikes, had been cautious in its earlier assessments, even after Kurdish militia claimed victory in the months-long battle.

But Central Command, which oversees U.S. forces in the Middle East and the air war against the ISIS group, said it "congratulates" the Kurdish fighters who "have fought aggressively with resilience and fortitude."

"While the fight against ISIL (ISIS) is far from over, ISIL's failure in Kobane has denied them one of their strategic objectives," it said.
U.S. and coalition aircraft have carried out 705 bombing raids around Kobane since September 23, defense officials told AFP.
The Syrian Kurdish forces have been backed by near daily U.S.-led airstrikes around the town, known as Ayn al-Arab in Arabic, and supported by Iraqi Kurdish Peshmerga forces.
U.S. and coalition forces launched 17 air strikes near Kobane since Sunday, the military said earlier.

[With AFP[