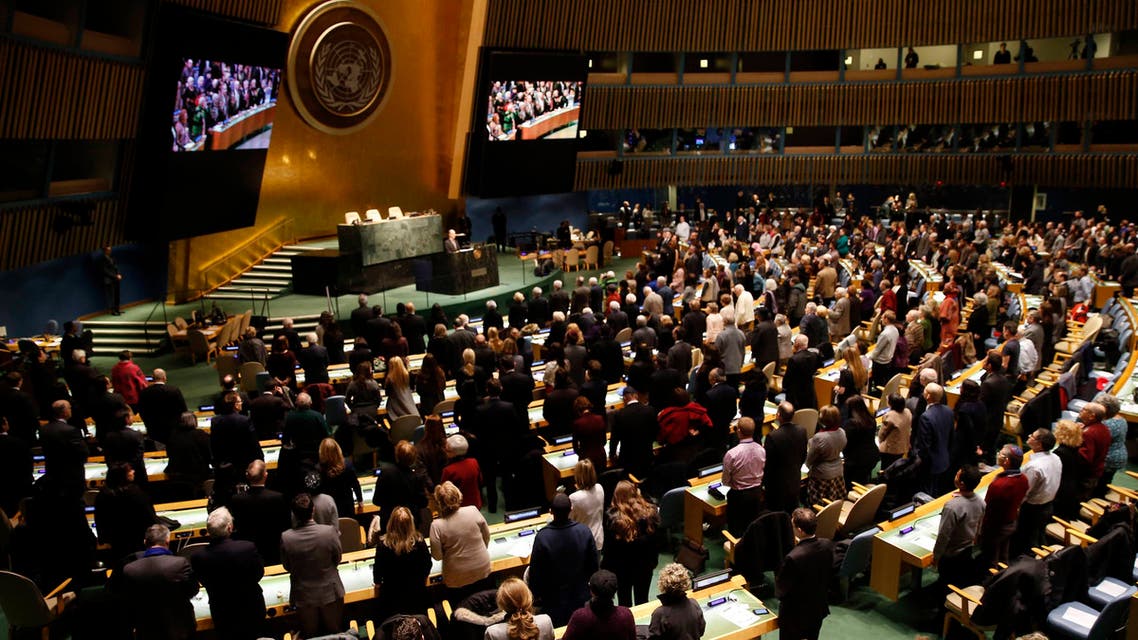 New Iran U.N. envoy expected to get U.S. visa: sources
An Iranian official said the appointment of the new envoy had already been discussed at a senior level by U.S. and Iranian officials
Iran's newly appointed U.N. ambassador is set to receive a U.S. visa so he can take up that key post, diplomatic sources said on Wednesday, likely removing a major strain on Tehran's tense relations with Washington.

Washington had infuriated Iran's leadership last year by rejecting its previous appointee as head of its sole diplomatic mission on U.S. soil over his suspected role in a 1979-81 hostage crisis.

Iran's state-run Tasnim news agency carried an official announcement on Wednesday that Iran had appointed career diplomat Gholamali Khoshrou, whose surname is also spelled Khoshroo, as its United Nations envoy. But it did not say whether he had been approved by Washington.

Several diplomatic sources, including a senior Iranian official, told Reuters on condition of anonymity it was almost certain that Khoshrou, a U.S.-educated veteran diplomat with close ties to the reformist camp of former president Mohammad Khatami, would be approved by the United States.

An Iranian official told Reuters that the appointment had already been discussed at a senior level by U.S. and Iranian officials prior to the Iranian announcement.

"Khoshrou has already been at the Iranian mission (to the United Nations) with the rank of ambassador and unless something crazy comes up, he's going to get his (U.N.) accreditation," a Western diplomatic source said.

The United States, which hosts the United Nations, said in April that Iran's initial candidate, Hamid Abutalebi, was unacceptable given his role in a 444-day crisis in which Iranian students stormed the U.S. embassy in Tehran and took 52 Americans hostage. Abutalebi said he acted only as a translator.

U.S. officials told Reuters that Abutalebi was not the first Iranian diplomat to be refused a visa to work at the Iranian U.N. mission, though his case was the first to be publicized.

Washington's refusal to issue a visa for Abutalebi last year came at a sensitive time for the two countries. Both the United States and Iran have been involved in negotiations on a long-term nuclear agreement under which Tehran would curb sensitive nuclear work in exchange for a gradual end of
sanctions.

Iran and major powers this month agreed to step up efforts to reach a political understanding by the end of March with a view to clinching a full-blown nuclear deal by their self-imposed deadline of June 30.

The United States cut off diplomatic ties with Iran in the wake of the 1979 Islamic Revolution. That makes the Iranian U.N. mission a crucial operation.

While the United States officially uses Switzerland to deliver messages to Tehran, it uses the U.N. mission as an unofficial channel to discuss issues ranging from Iran's nuclear program to U.S. citizens detained in the Islamic Republic, diplomatic sources told Reuters.

"We are aware of reports that Iran has appointed Gholamali Khoshrou as its permanent representative to the U.N." a U.S. official told Reuters.

Asked whether Khoshrou's visa would be approved, the official said: "All visa applications are reviewed individually in accordance with the requirements of U.S. law."

Khoshrou served as a deputy foreign minister under Khatami from 2002 to 2005 and was a senior diplomat at the Iranian U.N. mission from 1989 to 1995 with the rank of ambassador.

Since Khoshrou was previously granted a U.S. visa as a senior diplomat, the sources said, Washington had already been able to conduct a thorough background search to make sure he had no links to the U.S. hostage takers in 1979-1981.

It was not clear when Washington would formally approval Khoshrou's acceptance and when he would arrive in New York. He was not immediately available for comment.

Khoshrou has degrees from Tehran University and the New School for Social Research in New York City.