New Saudi cabinet pledges allegiance to King Salman
On Thursday, the newly inaugurated king had issued a series of landmark orders that ushered in fresh faces
Saudi Arabia's ministers pledged allegiance to Saudi King Salman bin Abdulaziz on Saturday, among them new members of the government reshuffled last week.
On Thursday, the newly inaugurated king had issued a series of landmark orders that ushered fresh faces into state institutions.
The king removed two of the late king's sons from big jobs, making Faisal bin Bandar Riyadh governor instead of Turki bin Abdullah and reinstating Khaled al-Faisal as Makkah governor less than two years after he was replaced by Mishaal bin Abdullah.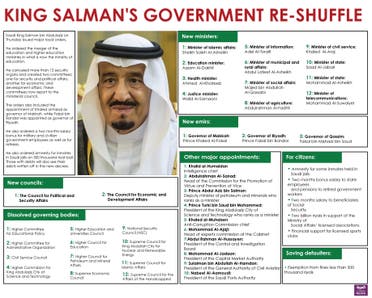 Majid al-Qasabi was appointed as minister of social affairs. Formerly the Minister of Municipal and Rural Affairs Mansour bin Mutaib was promoted to the position of Minister of State.
Saleh Al Sheikh is now the Minister of Islamic Affairs and Al Arabiya News Channel's former General Manager Adel Altoraifi was appointed Information Minister.
Prince Abdelaziz bin Salman is now deputy oil minister, Fahd Samari has been appointed to the position of adviser at the Royal Court.