Seven dead, 20 wounded in central Damascus blast
The Syrian Observatory for Human Rights said it was not immediately clear what had caused the blast
At least seven people were killed and 20 wounded when a blast ripped through a bus in a central district of the Syrian capital on Sunday, a monitoring group said.
The Syrian Observatory for Human Rights said it was not immediately clear what had caused the blast in the Souq al-Hamadiyeh neighbourhood of Damascus.
The explosion was also reported by Syrian state media, with the official SANA news agency saying at least four people had been killed and 19 wounded.
Infographic: Damascus blast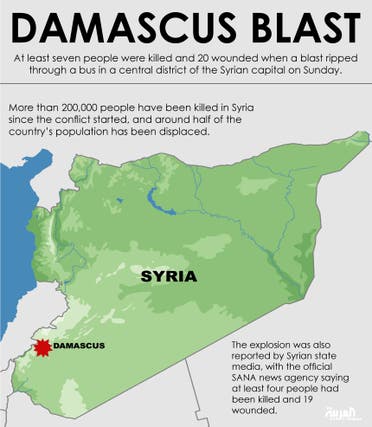 Observatory director Rami Abdel Rahman said the bus was reportedly carrying Shiite Muslim pilgrims visiting religious sites in the capital.
Parts of Damascus have remained relatively unscathed by the fighting raging in much of Syria since an uprising erupted in March 2011.
But rebels regularly fire rockets into the capital from rear bases in the surrounding countryside and the city has also been hit by bombings.
More than 200,000 people have been killed in Syria since the conflict started, and around half of the country's population has been displaced.