Strong sandstorm blankets Saudi capital Riyadh
Other parts of the country have also been hit by the sandy storming sweeping the region
A massive sandstorm swept through the Saudi capital Riyadh on Thursday, hampering visibility and causing traffic snarls and is expected to last for two days.
The dust storm, caused by strong winds, also affected other parts of the country including Makkah and Madina. It is expected to last for two days, Saudi daily newspaper al-Riyadh reported.
There has been no reported impact on air traffic. Oil export operations were also unaffected by the weather conditions, according to Reuters.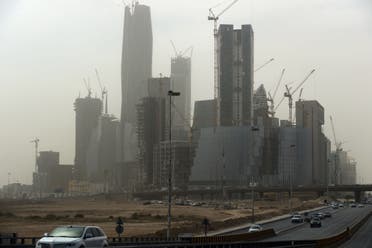 At the top oil exporter's main crude export terminal in Ras Tanura, export flow was uninterrupted, Reuters quoted shipping sources as saying.
But in neighboring Kuwait, a similar dust storm has disrupted oil exports forcing the country to halt both its crude and oil production exports on Thursday, a spokesman for state-run Kuwait National Petroleum Co (KNPC) told Reuters.
The suspension in Kuwait will remain in place until weather conditions improve, KNPC spokesman Khalid al-Asousi said.
Earlier this week, a similar storm struck Egypt, forcing delays to several flights at Cairo's airports on Tuesday.
During the closure of Cairo's airspace, four flights were diverted to another airport, while a fifth returned to Amman, Jordan, said Ihab Mohieddin, the head of the Egyptian aviation authority, to the Associated Press.