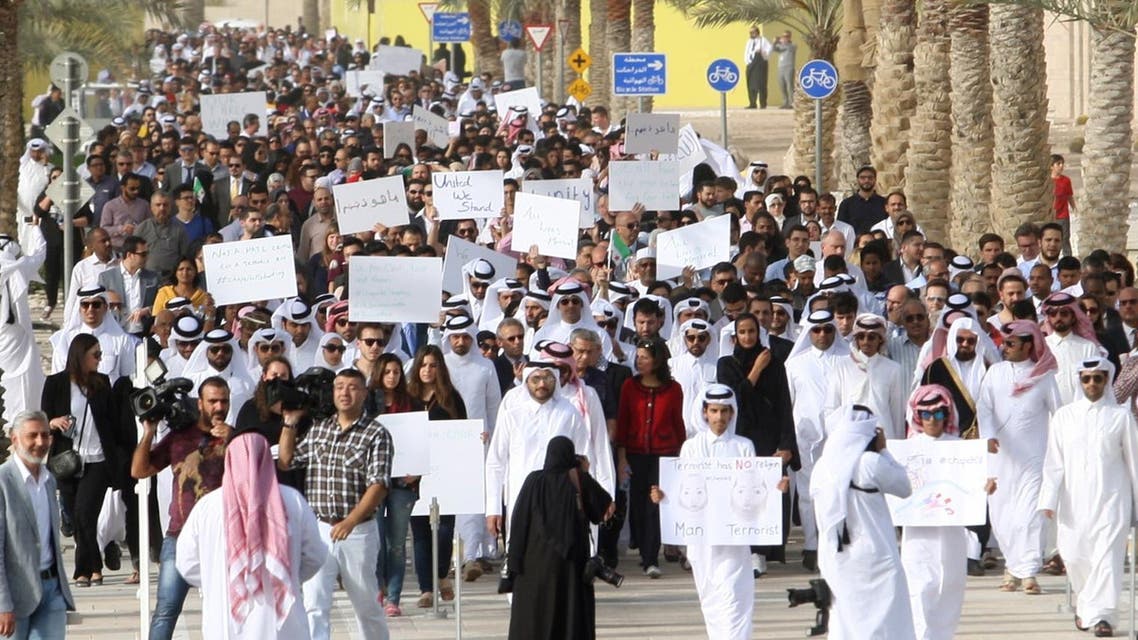 Hundreds in Qatar protest North Carolina 'terrorist act'
The march was a rare public demonstration for a country where protests are largely discouraged
Around 1,000 people marched Sunday in Doha in solidarity with the three Muslim American students murdered last week by a white neighbour in what protesters in Qatar called "a terrorist act".
The marchers carried banners calling for the "end of hate crimes", "unity" and another read: "We all have the right to live free from hate."
Among the marchers was the U.S. ambassador to Qatar, Dana Shell Smith, who tweeted that it was "good to see young people rejecting hate of all kinds".
The march was a rare public demonstration for a country where protests are largely discouraged.
The three students -- Deah Shaddy Barakat, 23, his wife Yusor Mohammad Abu-Salha, 21, and her 19-year-old sister Razan -- were allegedly killed by a neighbour, Craig Stephen Hicks, in the North Carolina university town of Chapel Hill.
The 46-year-old was believed to be strongly opposed to religion, as his Facebook page showed dozens of anti-religious posts, including statements against Islam, Christianity and Mormons.
Police said they were investigating the crime as a parking dispute, but victims' families believe the attack was religiously motivated.
Some have accused Western media and politicians of not responding quickly enough to the deaths of the three students, saying there is a double standard when Muslims are the victims of violence.
Hicks has been charged with three counts of murder.
Sunday's march in Doha was organised by a foundation chaired by Sheikha Moza bint Nasser al-Masnad -- the mother of Qatar's emir.
At the end of the march, participants heard a pre-recorded video message from Deah's brother and sister, Suzanne and Farris Barakat.
In the video, Farris said it was "amazing" that "the people of Qatar were thinking about us and the family."