Sisi calls for urgent security talks after ISIS beheading video
The Egyptians, dressed in orange jump suits, were beheaded after being forced down on the ground
President Abdel Fattah al-Sisi called Sunday an urgent meeting of Egypt's top national security body after ISIS militants released a video purportedly showing the beheading of Egyptian Christians in Libya.
Sisi also gave a television address, saying that Egypt and the world are facing "ferocious threats" hailing from radical militants, who are "devoid of any humane sense."
Read also: Egypt strikes back, but how far will ISIS fight go?
He also said Egypt is "capable" of facing this menace, adding that Egyptians are no longer allowed to travel to Libya.
ISIS released a video on Sunday purportedly showing the beheading of Egyptian Coptic Christians the militants say they captured in Libya.
Read also: Egypt unleashes strikes on ISIS targets in Libya
The footage released online shows handcuffed hostages wearing orange jumpsuits being beheaded by their black-suited captors on a seashore in the Libyan capital of Tripoli.
Egypt's state news agency MENA quoted the spokesman for the Coptic Church as confirming that 21 Egyptian Christians believed to be held by ISIS were dead.
Egypt also announced a seven-day mourning period.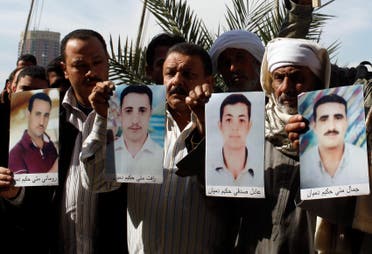 Al-Azhar condemns 'barbaric' killing
Meanwhile, Sunni Islam's top body, Al-Azhar, on Sunday condemned the "barbaric" beheading of the Copts.
"Al-Azhar received the news of the execution of a group of innocent Egyptians with great sorrow and grief," Al-Azhar said in a statement.
"Al-Azhar stresses that such barbaric action has nothing to do with any religion or human values."
Dabiq magazine
In the latest issue of ISIS online magazine Dabiq, the group said 21 Egyptian hostages were being held, and pictures showed a similar background.
The video, titled "A message signed with blood to the nation of the cross," has a scrolling caption in the first few seconds saying it is directed at "People of the cross, followers of the hostile Egyptian Church."
Sunday's video comes just days after ISIS released a video showing the gruesome burning alive of a Jordanian pilot it captured after his F-16 came down in Syria in December.
The highly choreographed video showing the killing of Maaz al-Kassasbeh triggered global outrage.
In January, ISIS branch in Libya claimed it had abducted 21 Christians.
A spokesman for the Egyptian foreign ministry confirmed to AFP in Cairo that 20 Egyptians had been kidnapped in two separate incidents in neighboring Libya.
Badr Abdelatty did not say when they were seized or specify their religious affiliation, but said seven Egyptians and 13 others abducted separately in Libya "are still being detained" by their captors.
Italy closes Libyan embassy
In a related story, Italy closed its embassy in Libya on Sunday and stepped up its call for a U.N. mission to calm the worsening conflict there as thousands of migrants approached Italy by boat from North Africa.

Libya is unraveling, with two rival governments operating their own armed forces under separate parliaments, nearly four years after the civil war that ousted leader Muammar Gaddafi.

"The deteriorating situation in Libya made it necessary to close (the embassy)," Foreign Minister Paolo Gentiloni said. Embassy staff have been sent back to Italy, the ministry said.


(With AFP and Reuters)