ISIS seizes U.S.-made arms in Iraq's Anbar
The seizure is not the first time ISIS gets its hands on U.S.-made equipment
Islamic State of Iraq and Syria (ISIS) militants have reportedly seized armored vehicles and American-made weapons from Iraq's western Anbar province, CNN reported on Saturday.
According to an online video, which emerged this week, the extremists attacked an Iraqi military post before seizing dozens of weapons.
The arms seized by the group included M-16s and heavy machine guns, according to the CNN.
Infographic: ISIS seizes U.S.-made arms in Iraq's Anbar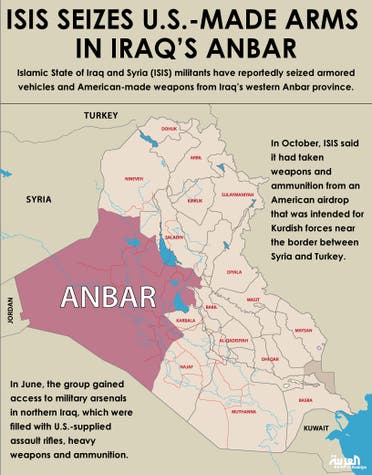 The authenticity of the video could not be independently verified. But if confirmed, it would not be the first time ISIS gets its hands on U.S.-made equipment.
In June, the group gained access to military arsenals in northern Iraq, which were filled with U.S.-supplied assault rifles, heavy weapons and ammunition.
In October, ISIS said it had taken weapons and ammunition from an American airdrop that was intended for Kurdish forces near the border between Syria and Turkey.