UK 'ISIS-bound' girls cross Syria border: report
The trio stayed two days in Istanbul before travelling with a Syrian male in a private car to the ISIS-held town of Tal Abyad
Three UK students who left to fight alongside militants from the Islamic State of Iraq and Syria (ISIS) have reportedly crossed into Syria, British newspaper The Telegraph reported Sunday.
Shamima Begum, 15, Kadiza Sultana, 16, and Amira Abase, 15, have allegedly travelled by car to the Turkish border on Friday, from where they crossed into the ISIS-held town of Tal Abyad, intelligence sources told the daily.
"They were seen in Tal Abyad on Friday. They were travelling with a Syrian male in a private car. They were using Syrian identity cards," the source said.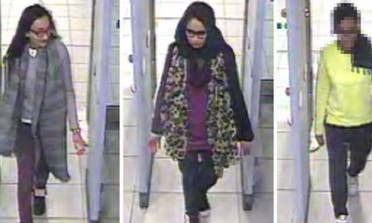 "We understand that after arriving in Istanbul the girls met an ISIS member who is charged with helping foreigners who want to join the group," the source added.
The source said that the trio stayed two days in Istanbul before crossing to Syria.
Turkey is a key entry point for those seeking to travel to Syria.
Police believe the three girls - all of whom were academic high achievers - are following the example of a friend who fled to join ISIS militants in December.
The girls were last seen on the morning of Feb.17 at their east London homes.