King Salman and Erdogan hold talks in Riyadh
Erdogan's visit to Riyadh comes a day after Egypt's President Sisi held talks with the Saudi leadership
King Salman bin Abdulaziz of Saudi Arabia held talks with visiting Turkish President Recep Tayyip Erdogan in the capital Riyadh on Monday
The king and Crown Prince Muqrin bin Abdulaziz, Deputy Crown Prince Mohammed bin Nayef and top Saudi officials greeted the Turkish president at Riyadh King Khalid International Airport earlier in the day.
Erdogan had arrived to the Saudi coastal city of Jeddah on Saturday evening and performed the Umrah pilgrimage in Makkah before flying to Riyadh on Monday.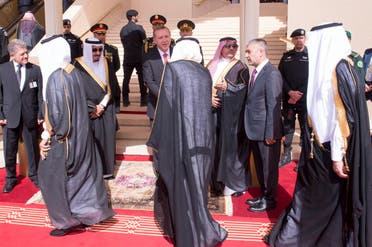 Erdogan's meeting with King Salman comes a day after Egyptian President Abdel Fattah al-Sisi held talks with the monarch, and precedes a visit by Pakistan's Prime Minister Nawaz Sharif later this week.
The Turkish and Saudi leaders discussed "means of enhancing bilateral cooperation in various fields, issues of common interest" and external developments, said the official Saudi Press Agency.
Top officials from neighboring nations Qatar, Kuwait, Jordan and the United Arab Emirates have already visited King Salman since mid-February.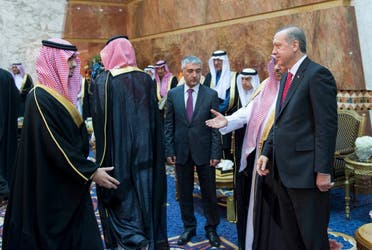 King Salman acceded to the throne in January after the death of King Abdullah.
Erdogan arrived in Riyadh after performing a weekend pilgrimage in the Muslim holy city of Mecca and visiting Medina.
Cairo has accused Turkey of interfering in Egypt's internal affairs and of supporting the Muslim Brotherhood.
Sisi and Erdogan have had strained relations since Sisi ousted president Mohammad Mursi in 2013, launching a crackdown on his Muslim Brotherhood which Qatar was also accused of backing.