Saudi clinics treat more than 2,600 Syrians at Zaatari camp
Saudi clinics operating in Zaatari camp for Syrian refugees have been providing medical and health care services
Saudi clinics operating in Zaatari camp for Syrian refugees have been providing medical and health care services to its residents for the past three years since its inception.
The 12 specialized clinics, which completed their 114th week, saw more than 2,600 patients. In a statement to the Saudi Press Agency (SPA), Medical Director of the Saudi Specialized Clinics Dr. Mohammed Ismail al-Zoubi said the Saudi national campaign is meeting the expenses of Zaatari camp's residents.
Infographic: Saudi clinics treat Syrians at Zaatari camp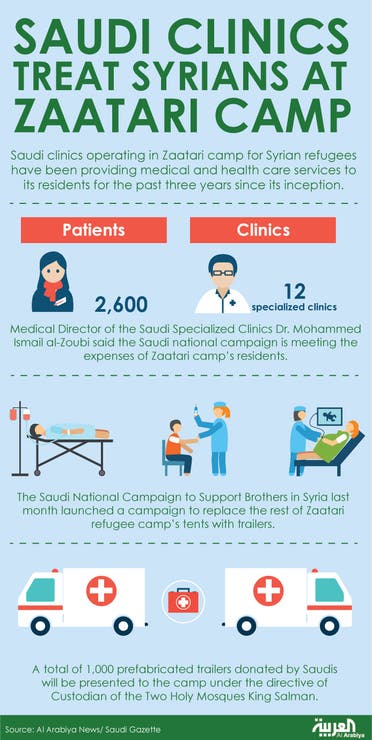 The Saudi National Campaign to Support Brothers in Syria last month launched a campaign to replace the rest of Zaatari refugee camp's tents with trailers.
A total of 1,000 prefabricated trailers donated by Saudis will be presented to the camp under the directive of Custodian of the Two Holy Mosques King Salman.
This article was first published in the Saudi Gazette on March 23, 2015.