Roadside bomb kills two soldiers in Egypt's Sinai
A military official said the explosion took place as army forces patrolled an area near the village of el-Kharouba, close to Gaza
A roadside bomb killed two soldiers and wounded six others on Tuesday as it struck a passing armored vehicle in the restive Sinai peninsula, Egyptian military and medical officials said.

A military official said the explosion took place as army forces patrolled an area near the village of el-Kharouba, close to the Gaza Strip in the north.

Egypt has been battling an Islamist insurgency in North Sinai since the army ousted president Mohamed Mursi in July 2013.

Militant attacks in Sinai are spearheaded by a group called Ansar Beit al-Maqdis (Partisans of Jerusalem), the Egyptian affiliate of the Islamic state group that controls swathes of territory in Syria and Iraq.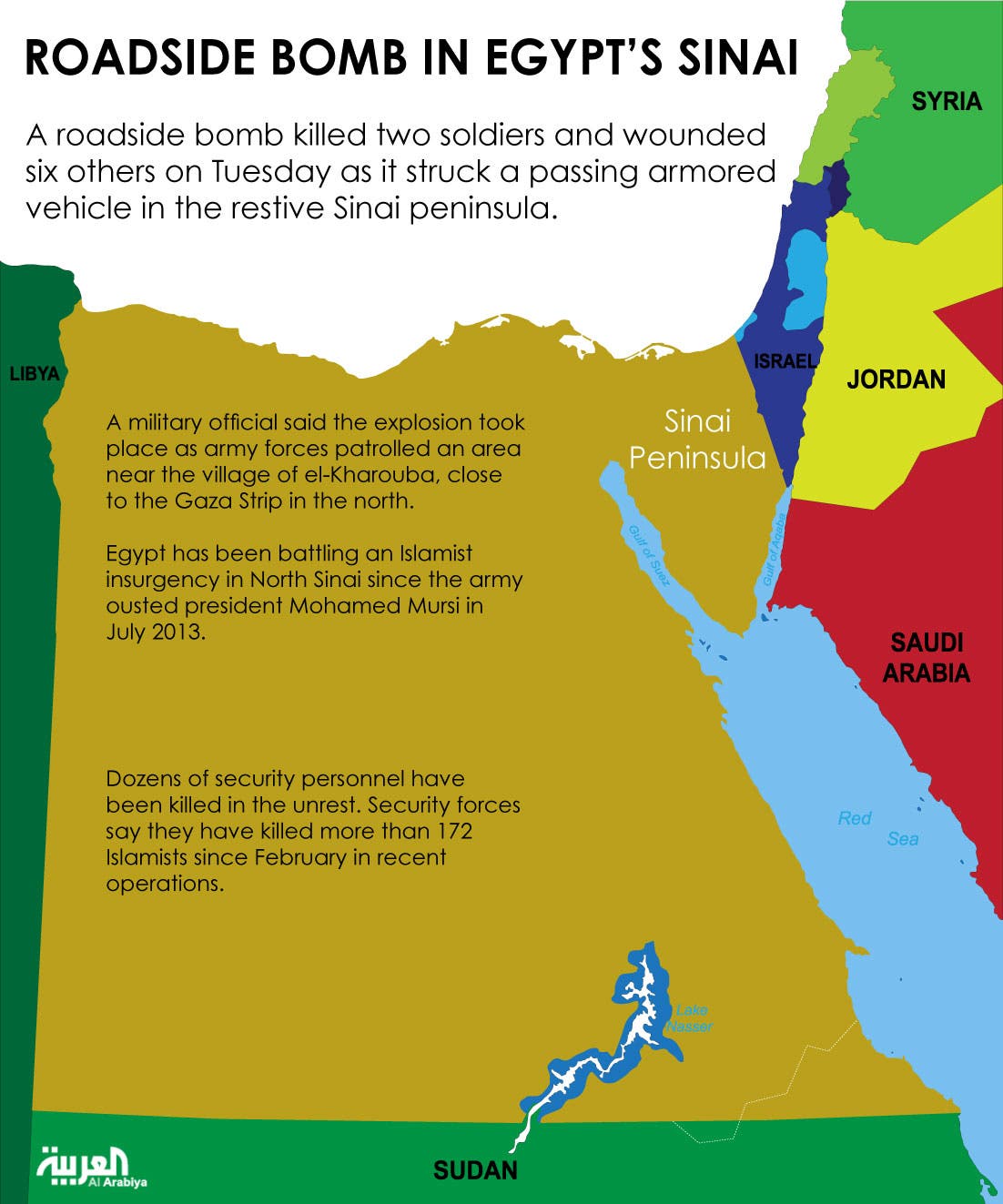 Ansar Beit al-Maqdis has claimed some of the deadliest and most sophisticated attacks against Egyptian security forces in the Sinai peninsula, which neighbors Israel and the Palestinian enclave in Gaza.

Islamist groups say the attacks are in response to the deaths of more than 1,400 civilians and the arrests of more than 15,000 since Mursi's ouster.

Earlier this month two bombings, one of them a suicide attack on a police base, killed a civilian and an army officer. Two civilians and 30 police officers were wounded in that attack. A roadside bomb a day earlier killed three soldiers in the peninsula.

Dozens of security personnel have been killed in the unrest. Security forces say they have killed more than 172 Islamists since February in recent operations.