Egypt, Pakistan join military campaign against Houthis
Egypt, Pakistan and Sudan have also expressed their readiness to contribute ground troops in the campaign
Pakistan and Egypt announced their participation in the ongoing Saudi-led military campaign against with air and naval forces, Al Arabiya News Channel reported.
Al Arabiya said Egypt, Pakistan and Sudan have also expressed their readiness to contribute ground troops in the campaign.
Four Egyptian warships entered the Suez Canal on Thursday en route to the Gulf of Aden, Reuters news agency reported citing canal officials said.

The officials said the ships will take part in operations "to secure" the strategic waters that control southern access to the Suez Canal.
The UAE, Kuwait, Bahrain, Qatar and Jordan have also deployed fighter jets to join the Saudi air force in the ongoing air campaign against Yemen's Houthi rebels, Al Arabiya News Chanel reported.
Read also:
Yemen's Hadi arrives in Riyadh on way to Egypt
Arab states agree to form unified military force
Saudi 'Decisive Storm' waged to save Yemen
Your guide to 'Operation Decisive Storm'
The UAE has deployed 30 fighter jets, Bahrain 15, Kuwait 15, Qatar 10 and Jordan 6 warplanes, according to the news channel.
Egypt's presidency said in a statement Thursday that its naval and air forces were participating in the coalition campaign already.
Egypt is "prepared for participation with naval, air and ground forces if necessary," Foreign Minister Sameh Shukri said at a gathering of Arab foreign ministers preparing for a weekend Arab summit in the Egyptian resort of Sharm el-Sheikh.
Sources told Al Arabiya News Chanel that four naval ships headed to secure the Gulf of Aden.
Pakistan's Prime Minister Nawaz Sharif said any threat to Saudi Arabia would "evoke a strong response" from Islamabad.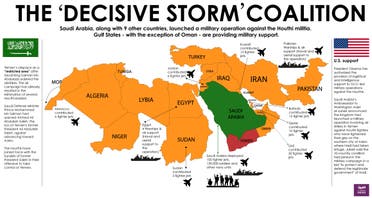 Pakistan, which borders eastern Iran, said it was considering a Saudi request that it send troops to Yemen.

Saudi Brigadier General Ahmed Asseri, spokesman for the operation, told a news conference:

"There are no plans at this stage for ground forces operations, but if the need arises, the Saudi ground forces and those of the friends and sisterly forces are ready and will repel any aggression."

Arab foreign ministers agreed in Egypt on Thursday on a draft resolution to form a unified Arab military force.

"The task of the force will be rapid military intervention to deal with security threats to Arab nations," Arab League Secretary General Nabil Elaraby said

[With Agencies]