BBC Arabic deletes tweet on Iran's Soleimani in Yemen
Before allegedly leaving to Yemen, Soleimani was the most prominent Iranian military officer leading a Shiite militia offensive to eradicate ISIS militants
BBC Arabic retracted a report claiming that Iranian Revolutionary Guards' elite Quds Force, Maj. Gen. Qassem Soleimani had left for Yemen.
Citing sources "close to the general," a BBC Arabic correspondent claimed that Soleimani was making his way to Yemen, according to a tweet posted by the news channel. However, shortly afterwards the tweet was deleted and BBC Arabic tweeted that the information is being checked and that followers will be updated shortly.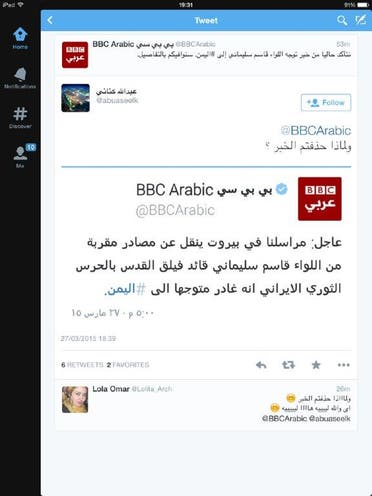 Soleimani was the most prominent Iranian military officer leading a Shiite militia offensive to eradicate Islamic State of Iraq and Syria (ISIS) militants from the Iraqi city of Tikrit.
Soleimani and the Shiite militias he reportedly commanded in Tikrit had earlier stopped their offensive against ISIS militants, after Baghdad issued a request to the U.S. for air power and the Pentagon said it would only oblige to support Iraqi forces in recapturing the city.
Until recently, the Iraqis fought side-by-side with Shiite militias and Iranian special forces. Their withdrawal was a key condition for the American air intervention, said Army Gen. Lloyd Austin, head of U.S. Central Command.
U.S. officials estimate that two-thirds of the ground troops involved were Shiite militiamen; the others are combinations of regular Iraqi army soldiers and Sunni tribal fighters.
That growing Iranian presence complicated the mission, with Washington refusing to work directly with Tehran, even though it is currently embroiled with Iran in sensitive negotiations over a nuclear deal.
The report comes as Yemen's foreign minister Riad Yaseen said on Friday that Iranian forces were in the Yemeni capital of Sanaa to support the Houthi mlitants, in an interview with Al Arabiya News Channel.