'Decisive Storm' destroys Houthi missile stockpile
Saudi defense minister Prince Mohammed bin Salman has sent three planes to evacuate a U.N. mission in Sanaa
As the Saudi-led "Operation Decisive Storm," continues into its third day, sources to Al Arabiya News Channel confirmed that coalition strikes destroyed a large Houthi ballistic missile stockpile in the capital Sanaa.
Meanwhile, rxplosions rocked Aden's largest arms depot on Saturday, sending flames and smoke into the sky above the southern Yemeni city, witnesses said.

A Reuters correspondent saw fire and explosions at the Jabal Hadeed compound, which is close to residential and commercial properties. There was no immediate word of casualties.

Residents have reported looting at the depot in recent days as Houthi fighters challenge forces loyal to President Abdrabbu Mansour Hadi for control of the south's largest city.
Saudi defense minister Prince Mohammed bin Salman - who is supervising the 10-nation coalition campaign against Houthi militias in Yemen - sent three planes early Saturday to evacuate a U.N. mission in Sanaa.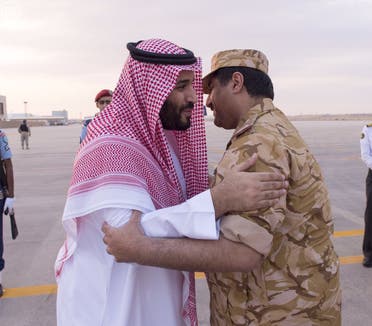 The U.N. mission demanded airspace to allow the planes to secure their evacuation from the Yemeni capital to Ethiopia.
The evacuation was met with obstacles, however, as Houthi militias prevented nearly 140 people from the U.N. mission from leaving by surrounding their base. It was later reported that the U.N. was evacuating staff from Sanaa and Special Envoy Jamal Benomar had managed to leave the city.
Saudi Arabia waged early Thursday "Decisive Storm" against the Houthi coup in Yemen and in support of legitimate President Abd-Rabbu Mansour Hadi. A coalition of all GCC countries, barring Oman, is taking part in the campaign, including Sudan, Egypt, Morocco, Jordan and Pakistan. The campaign has already resulted in the elimination of several Houthi leaders.
On the third day of the air campaign, strikes were carried out in Sanaa, as well as other areas south of the country.
Witnesses also reported that the warplanes flew in the skies of the southern city of Dalea as Houthis attempted to use anti-aircraft missiles in Sanaa against coalition fighters.
Other sources also reported that Houthi military reinforcements backed by former President Ali Abdullah Saleh were heading towards Aden from Taiz, and violent clashes were taking place between rival factions.
The Houthis had joined forces with the loyalists of former President Saleh in their offensive to take control of Yemen. Some Yemenis also see Saleh, a fierce critic of President Hadi, as an instigator behind the expansion of the Shiite Muslim Houthi movement.
Targeting Houthi strongholds
Saudi and Egyptian warships deployed Friday to the Bab al-Mandab strait off Yemen to secure the strategic sea passage, Egyptian military officials said, aiming to pave the way for possible ground operations, the Associated Press reported.
Earlier on Friday, Saleh - who is allied with Houthi leaders and large parts of the army - called for a ceasefire and the resumption of U.N.-brokered dialogue between warring parties.
Witnesses said an air raid by the coalition forces targeted both Houthi members and supporters of Saleh in al-Istiqbal military camp west of the capital.
The witnesses also said that the coalition's air raid also neutralized a military camp north of Sanaa, which reported back to Ahmed Ali Saleh, son of the former leader, who ruled Yemen for 33 years.
"Decisive Storm" also launched its air strikes south of Yemen where Houthis and their allies are trying to expand. They targeted al-Anad military camp, which the Houthis seized last Wednesday.