Arab coalition air strikes kill 15 Yemeni rebel troops
Air strikes have eliminated most of the ballistic missiles which Houthi fighters captured from Yemen's army
Arab coalition air strikes hit the headquarters of the rebel republican guard in Yemen's capital, killing 15 soldiers, a military official told Agence France-Presse Sunday.
The overnight raid struck the al-Subaha base in western Sanaa, the official said.
A medic at a military hospital in the capital said it had received 12 bodies and 18 wounded soldiers after the raid.
Saudi Arabia is leading a 10-state coalition to combat the Houthi's advancement of Yemen in support of the country's legitimate President Abdrabbu Mansour Hadi and his government.
Infographic: Strikes kill Yemeni rebel troops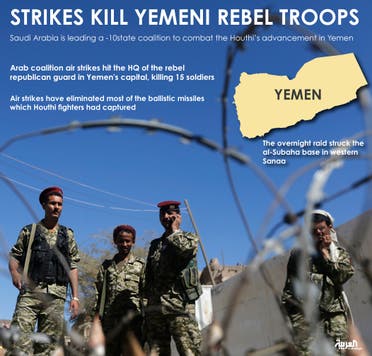 Air strikes have eliminated most of the ballistic missiles which Houthi fighters captured from Yemen's army, a Saudi military officer said on Saturday.
Saudi-led airstrikes struck military targets and weapons depots controlled by Houthi rebels in the Yemeni city of Saada on Sunday, where members of the militia released hundreds of convicted criminals and took control of the Kahlan military camp, Al Arabiya News Channel reported.