Yemenis in U.S. voice support for 'Decisive Storm'
Protestors said they held former president Ali Abdullah Saleh responsible for the situation in the embattled country
Members of the Yemeni community in the U.S. held a demonstration on Monday outside the United Nations headquarters in New York where they voiced their support of a Saudi-let military campaign against Houthi rebels in Yemen, Al Arabiya News Channel reported.
Protestors said they held former president Ali Abdullah Saleh responsible for the situation in the embattled country. They also blamed the extremist wing of his political party – the General People's Congress – and the Houthi militia, who took control of the capital of Sanaa earlier this year.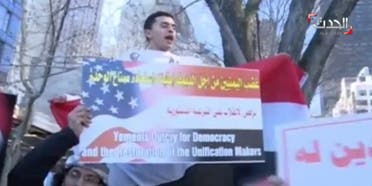 Separately, the spokesperson of a Yemeni community in the U.S. called upon the United Nations to adopt a resolution on Yemen, making the Arab intervention an international one, Al Arabiya reported.
The protest condemned the Houti-led coup in Yemen and demanded that those held responsible be prosecuted in the International Criminal Court as war criminals.
Saudi Arabia is leading a 10-state coalition against Houthi rebels in a campaign that started five days ago.
Operation 'Decisive Storm' has seen a series of air strikes that targeted Houthi-held areas throughout Yemen.
A military spokesman for the operation said that there would be no safe haven for the Houthi militias in Yemen as the coalition's air power targeted for a fourth day – on Sunday - ballistic missiles that had been seized by the Shiite militant movement.
Saudi Brig. Gen. Ahmed Asiri said that the "work is under way to destroy the remaining ballistic missiles, particularly the mobile ones," according to the Saudi Press Agency.
He added that "a great intelligence effort is being exerted to determine the locations of those hidden machines by the Houthi militias inside homes and residential areas."
Speaking to reporters in Riyadh, he said "there is a direct targeting of Houthis," adding that coalition fighter jets were also targeting anti-air defenses on the ground.
"[The fighters jets] are available around the clock in all of Yemen to prevent a Houthi buildup," he said.
He reiterated that the coalition remained "vigilant" in order to safeguard civilian lives and infrastructure.