Saudi-led coalition targets Houthi arms in Yemen
Brig. Gen. Ahmed Asiri said the coalition also targeted the air defense systems of the rebels
The Saudi-led coalition has targeted ballistic missiles and ammunition cache belonging to Houthi rebels, the coalition's spokesman said Wednesday.

Speaking during the daily briefing session in Riyadh on the Saudi-led campaign in Yemen, Brig. Gen. Ahmed Asiri said that the coalition also targeted the air defense systems of the rebels.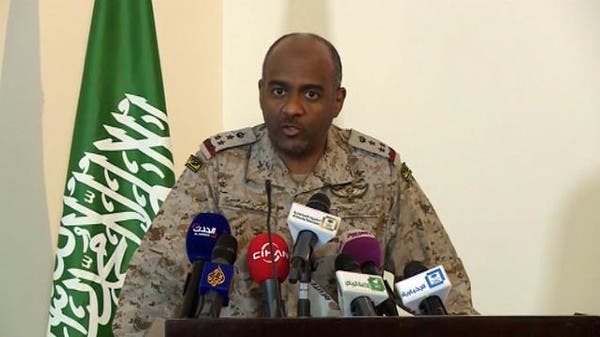 Asiri also said the coalition has also intensified air strikes on roads leading to Aden.
The spokesman spoke about the success of the military operations against the Houthis on all levels and said that the coalition would continue until it meets its objectives.
Asiri also said that the coalition does not target civilians and stressed the importance of humanitarian aid being delivered to Yemen.
On Tuesday, the Arab coalition said it was welcoming non-military aid provided by countries or humanitarian organizations to the impoverished country.
Speaking about the Houthi militias, Assiri said that the operations carried by out the coalition have weakened the military capabilities of the Iranian-backed rebels.
He also said that Houthis are seeking to bring the fight inside Yemen's cities. Asiri said that the Saudi artillery has prevented the rebels from approaching their border.