Woman shot after attempted attack on Turkish police
Turkish police shoot attackers at Istanbul headquarters on Wedneday; government vows to find 'dark forces'
Turkish police shot dead a woman carrying guns and hand grenades and detained a man as they tried to attack Istanbul's police headquarters on Wednesday, officials and media said, the third attack on an official building in the past two days.
A photograph published by local media showed a red-haired woman lying on the ground with a rifle strapped to her and a handgun by her side. Television footage showed police vehicles sealing off the street in the central Aksaray neighborhood.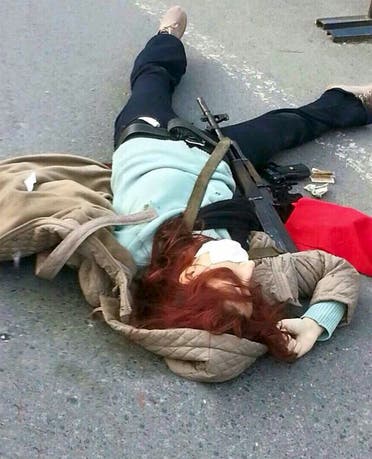 "The Istanbul police headquarters on Vatan street was targeted by rifle fire and a female terrorist was killed in the clash," the Istanbul governor's office said in a statement.
The woman was carrying a rifle, two hand grenades and one pistol, it said. Local media said a man had also been detained.
The attack comes a day after two leftist militants took an Istanbul prosecutor hostage in his office. All three died late on Tuesday after police special forces stormed the courthouse in an effort to release him.
Separately, police detained a gunman on Wednesday who entered an Istanbul branch of the ruling AK Party and hung from its window a Turkish flag with the emblem of a sword added.
It was not immediately clear whether any of the attacks were linked, but Prime Minister Ahmet Davutoglu warned of the risk of "provocations" and attempts to cause chaos ahead of June's national election.
"We are aware that we face an axis of evil and there is an attempt to instigate an atmosphere of chaos ahead of the election," he told reporters, hours before the attack on the Istanbul police headquarters, without identifying who constituted the axis members.
Justice Minister Kenan Ipek said the two members of the extreme leftist Revolutionary People's Liberation Party-Front (DHKP-C) who took prosecutor Mehmet Selim Kiraz, 46, hostage on Tuesday had "held a gun to the nation."
"We don't see this as an attack on our deceased prosecutor, but on the whole justice system," he said at a ceremony for Kiraz attended by hundreds of lawyers and judges.
"Our state is powerful enough to track down those behind these lowlifes ... The fact these assassins are dead shouldn't put those nefarious and dark forces at ease," he said, as Kiraz's coffin was displayed in the courthouse foyer.
Protests
Kiraz had been leading an investigation into the death last March of Berkin Elvan, 15, who died nine months after falling into a coma after being hit by a police teargas canister during anti-government protests in 2013.
The DHKP-C said on its website that the hostage-taking was in revenge for Elvan, whose death a year ago prompted renewed protests in parts of Istanbul.
DHKP-C sympathizers clashed with police in two Istanbul neighborhoods overnight, local media reported. Counter-terrorism police have raided homes of suspected members and detained more than two dozen people in three provincial cities.
Riot police also detained 36 students at Istanbul University after posters referring to one of the dead hostage takers were put up in the law faculty, a leftist union said on its website.
Newspapers last month reported that prosecutor Kiraz, a father of two, married to a judge who also worked at the courthouse, had identified three police officers involved in Elvan's death and was close to finishing his investigation.
The DHKP-C is a Marxist group that has been behind a series of assassinations and suicide bombings, including fatal attacks on the U.S. Embassy. Turkish police have also been a frequent target.
The United States, European Union and Turkey list it as a terrorist organization.