Christians celebrate Easter in Jerusalem
This year, Easter festivities are coinciding with the Jewish holiday of Passover
Around 1,500 people gathered at Jerusalem's Garden Tomb at sunrise on Sunday to celebrate Easter when Christians believe Jesus rose from the dead after being crucified.

On a sunny but chilly morning, crowds of Christians from all over the world massed at a rock-cut tomb, which is next to a skull-shaped hill and is seen as a possible site of the crucifixion and resurrection.

Located in Israeli-annexed east Jerusalem, the so-called Garden Tomb was first discovered in the 19th century and quickly became a popular alternative site to the Church of the Holy Sepulchre.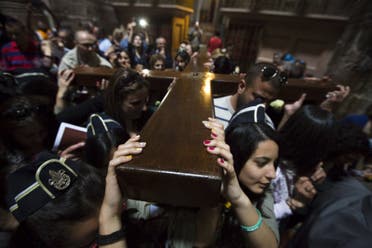 According to both Latin and Orthodox Christian tradition, Jesus was crucified, buried and rose again on the site of the sprawling basilica in the Old City.

As the sun rose, the crowds sung hymns and choruses, many of them snapping photos of the entrance to the empty tomb.

"It is just awesome to be here," said a 41-year-old woman from South Korea who gave her name only as Miok.

"The Bible talks about Jerusalem being a house of prayer for all nations and here you can see people from all these nations coming together to worship him at the same time," she told AFP.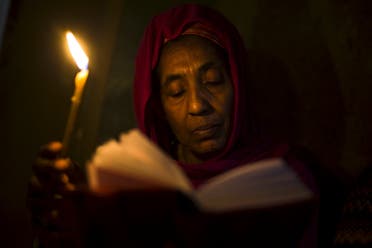 Shagufta, a woman in her 50s from Pakistan, described the experience as "very exciting".

"We've never experienced anything like it before, to see all these people from all over the world and to be where Jesus lived and walked," said Shagufta, who did not give her surname.

According to the Gospels, Jesus was crucified and buried a day after he celebrated Passover, then rose from the dead on the morning of what has become known as Easter Sunday -- the most important day of the year for Christians.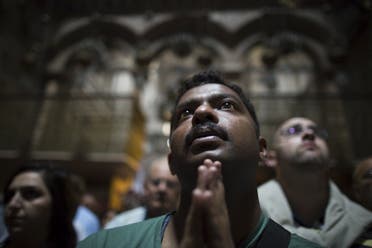 Known as Gordon's Calvary after the British general who discovered it in 1894, the garden is situated some 200 metres outside the Old City walls under the shadow of a rocky outcrop that looks like a skull, and is believed to be Golgotha, which is also known in Latin as Calvary.

Orthodox Christians celebrate Easter next weekend, according to the old-style Julian calendar.