Yemeni govt bans entry into territorial waters
Ships carrying relief aid, food or medicine will be allowed to enter the territorial waters, said Yemeni Foreign Minister Riyadh Yassin
Yemeni Foreign Minister Riyadh Yassin said Saturday his country has banned entry into its territorial waters and has delegated countries participating in the Saudi-led coalition against Houthi militias to implement the decision.
The step came after monitoring several Iranian attempts to smuggle aid to Houthi rebels and militias loyal to deposed leader Ali Abdullah Saleh, the minister told al-Hadath, Al Arabiya's sister channel.
Yassin stressed that ships carrying relief aid, food or medicine will be allowed to enter the territorial waters after passing inspection.
The Yemeni foreign ministry also issued a statement earlier in the day which states that the ban has been imposed on the country's maritime zones.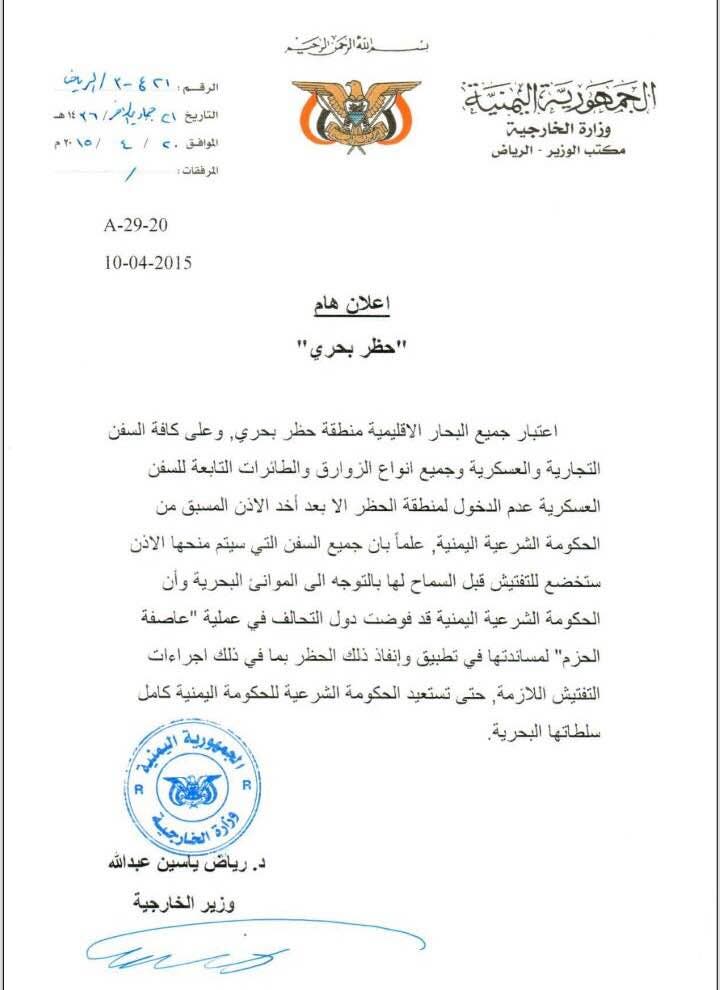 The ministry said all commercial and military vessels cannot enter the designated zones without authorization from the Yemeni government.
The ships that will be permitted would still be subject to inspection before heading to Yemeni seaports, it added.
The internationally-recognized government - led by President Abdrabbu Mansour Hadi - is currently holed up in the southern port city of Aden, which Houthi fighters and forces loyal to deposed leader Ali Abdullah Saleh are attempting to capture. The city has seen intense fighting over the last few days.
Bolstered by more than two weeks of air raids led by Saudi Arabia, local armed groups loyal to Hadi have been resisting the southward advance of the Iranian-backed Houthi militias.