Aussie defense minister can't name ISIS chief
The apparent stumble over Abu Bakr al-Baghdadi's name comes despite Australia joining the anti-ISIS coalition
His name is on the tongue of defense ministers around the world, but strangely, one official was unable to name ISIS chief Abu Bakr al-Baghdadi, who commands a sprawling self-declared "caliphate" stretching between Iraq and Syria.
Australian defense minister Kevin Andrews was left red in the face when he was asked to identify the ISIS chief, despite his country joining the anti-ISIS coalition to stem the militants' advancements in Iraq and Syria.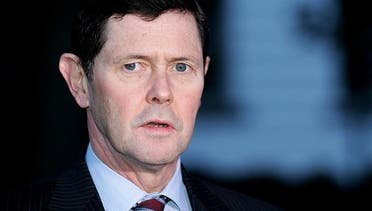 During a television interview with the Australian Broadcasting Corporation, Andrews was repeatedly asked to identify the leader, whose exact whereabouts remain unknown.
Andrews avoided answering directly.

"I'm not going to go into operational matters obviously," he insisted, to which the interviewer replied: "I don't think it's operational, I think it's a matter of public record."

She added: "Minister, you're responsible for putting Australian men and women in harm's way in the cause of this mission, I'm surprised that you can't tell me the name of Islamic State's leader.

"The U.S. State Department has a $10 million bounty on his head."

Andrews insisted that ISIS was "a combination of groups".

"It's not just one person involved, there's a series of people involved and we must ultimately destroy all of them if we're going to degrade their operations in that area," he said.

Later, Andrews took to Twitter and said: "Focusing on individuals ignores the threat that extremist organizations present."
But Australian news outlets were quick to gather that Andrews' response meant he simply did not know who Baghdadi is.
It came just hours after he jointly announced with Prime Minister Tony Abbott that 330 non-combat troops were heading to Iraq for two years.

They will train local soldiers fighting jihadists including Islamic State, with the first group leaving Australia on Wednesday.

Some 170 Australian special forces are already in Iraq helping train government troops. Eight F/A18s based in the United Arab Emirates are also taking part in air strikes against ISIS militants.

The announcement came as the U.S., which is leading an air campaign against Islamic State, said the jihadists had lost control of "25 to 30" percent of the territory it holds in Iraq after coalition air strikes and an Iraqi offensive.
(With AFP)