Obama hails 'extraordinary' Saudi relations
Obama said Washington is 'continuing to build' its relationship with Riyadh 'during a very challenging time'
U.S. President Barack Obama hailed the "extraordinary friendship and relationship" Washington has with Riyadh after meeting with Saudi Arabia's Crown Prince Mohammad bin Nayef and Deputy Crown Prince Mohammad bin Salman at the White House after King Salman pulled out of the visit.
"The United States and Saudi Arabia have an extraordinary friendship and relationship that dates back to [President] Franklin Roosevelt," Obama said at the start of the meeting.
He added: "We are continuing to build that relationship during a very challenging time."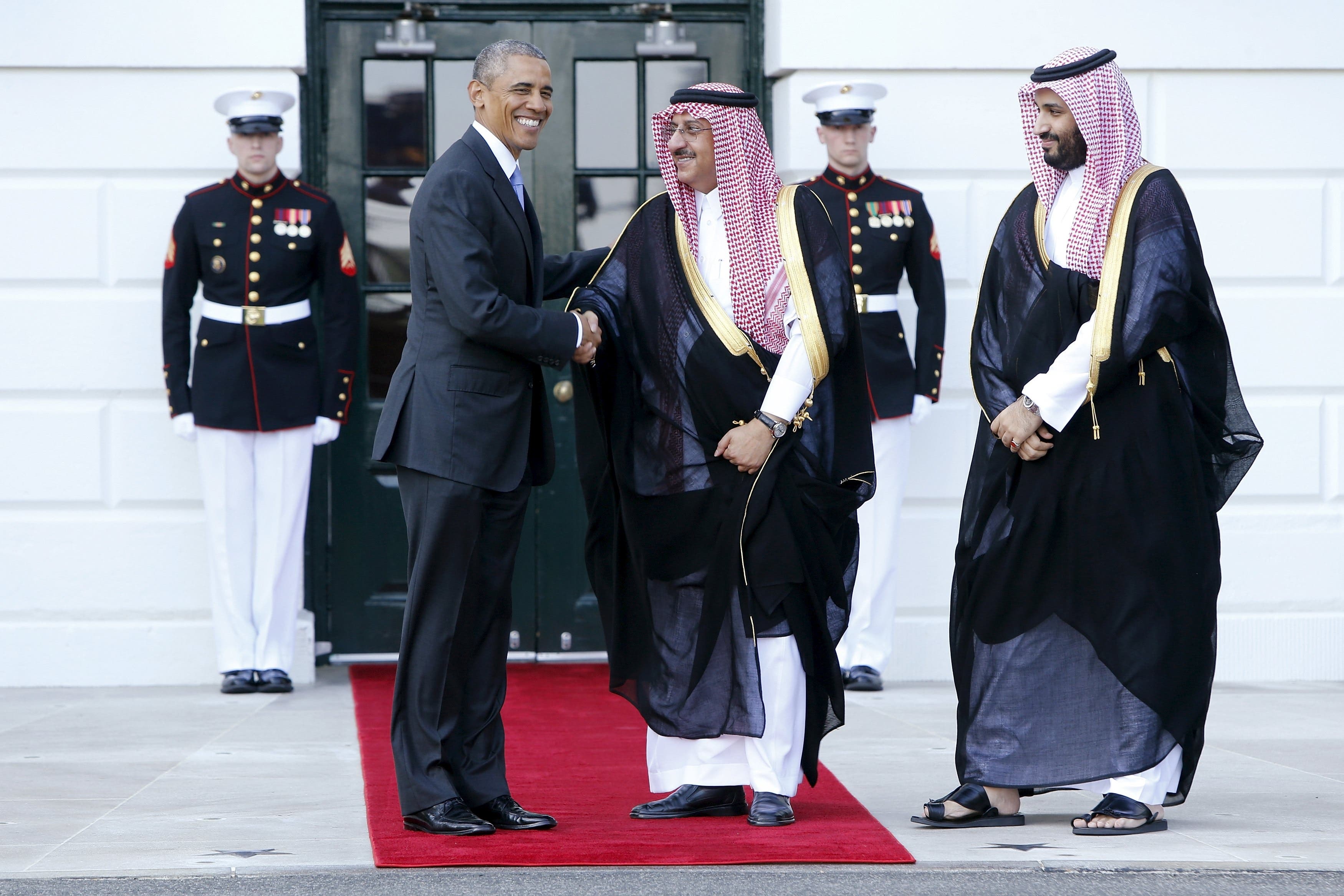 King Salman decided abruptly to skip the White House meeting and a summit of the Gulf Cooperation Council at the president's Camp David retreat in Maryland outside Washington on Thursday.
The crown prince, meanwhile, expressed King Salman's "appreciation" of the
"great importance to the strategic and historic relationship between the two countries," the state-run Saudi Press Agency (SPA) reported.
"This historic relationship we seek to strengthen and broaden and deepen with time. Mr. President, you spoke about the situation in the region, and we look forward to, God willing, to working with you to overcome the challenges and to bring about calm and stability in the region," the crown prince said.

The White House has sought to counter perceptions that King Salman's absence was a snub that would undermine efforts to reassure the region Washington remains committed to its security in the face of Iran's power and influence.
Obama said he and the Saudi leaders would discuss how to build on a ceasefire in Yemen and work toward "an inclusive, legitimate government" in Saudi Arabia's impoverished neighbor, where a Saudi-led coalition has been bombing Iran-supported Houthi militias.
On Iran nuclear deal
The president made no mention of Saudi skepticism of the Iran talks as he opened the meeting, but acknowledged the region is in the midst of a "very challenging time."
However, in a previous interview with pan Arab newspaper Asharq al-Awsat, he said Iran was a "state sponsor of terror."
White House spokeswoman Bernadette Meehan said the leaders discussed the "importance of a comprehensive agreement" between Iran and world powers "that verifiably ensures the exclusively peaceful nature of Iran's nuclear program," referring to efforts by the United States and five other world
powers to reach an agreement on curbing Iran's atomic program.
They also discussed efforts to counter Islamic State militants and cooperate to resolve conflicts in Iraq, Syria and Yemen, she said.
White House Josh Earnest said King Salman had not expressed any specific concerns about the agenda at Camp David when he met Secretary of State John Kerry in Riyadh last week, and added it was unprecedented that two high profile Saudi leaders were attending.
"That is an indication that the Saudis certainly take all of this seriously," Earnest told reporters.
The Gulf Cooperation Council includes Saudi Arabia, Kuwait, Qatar, Bahrain, the United Arab Emirates (UAE) and Oman.
U.S. officials have portrayed the summit as a working meeting rather than a symbolic get-together. But the absence of many top Arab leaders, in addition to King Salman, is viewed as a reflection of frustration with Obama's pursuit of the international nuclear deal with Iran and a perceived U.S. failure to support opposition fighters in Syria.
Obama called Saudi Arabia a critical partner in the fight against the Islamic State of Iraq and Syria and highlighted his interactions with the two leaders who came in King Salman's place.
Obama did not have private meetings on his public schedule with the leaders from the other countries. They arrived at the White House later on Wednesday evening for a dinner with the president.
Analysts skeptical
When two days of talks wrap up on Thursday, it's unlikely much will have changed.
The Gulf's skepticism of Iran is deep-seated and extends far beyond its nuclear pursuits. Obama, meanwhile, has invested too much in the Iran negotiations to let Gulf concerns upend his legacy-building bid for a deal.

"My guess is that the summit is going to leave everybody feeling a little bit unsatisfied," Jon Alterman, the Middle East director at the Center for Strategic and International Studies, told the Associated Press.

The White House is expected to offer the Gulf nations more military assistance, including increased joint exercises and coordination on ballistic missile systems. But Gulf requests for a formal defense treaty already have been denied by the U.S., in part because of the difficulty of getting such an agreement approved by Congress.

(With Reuters and Associated Press)