Syrian city of Palmyra falls under ISIS
The militant offensive on the world heritage site Palmyra began on May 13 and has since left more than 350 people dead
Islamic State of Iraq and Syria insurgents stormed the historic Syrian city of Palmyra on Wednesday, fighting off pro-government forces who withdrew after evacuating most of the civilian population, state television said.

The capture of Palmyra is the first time the al-Qaeda offshoot has taken control of a city directly from the Syrian army and allied forces, which have already lost ground in the northwest and south to other insurgent groups in recent weeks.
Infographic: Syrian city of Palmyra falls under ISIS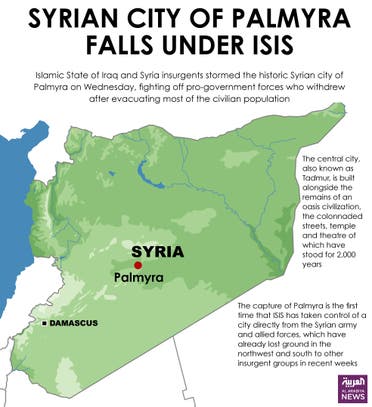 The central city, also known as Tadmur, is built alongside the remains of a oasis civilization whose colonnaded streets, temple and theatre have stood for 2,000 years.

ISIS extremists sparked international outrage earlier this year in Iraq when they blew up the ancient Assyrian city of Nimrud and smashed artefacts in the Mosul museum.
Syria's antiquities chief called on the world to save its ancient monuments and state television said ISIS fighters were trying to enter the city's historical sites.

Palmyra is also a strategic military gain, home to modern army installations and situated on a desert highway linking the capital Damascus with Syria's eastern provinces, mostly under insurgent control.

"Praise God, it has been liberated," said an ISIS fighter speaking via the Internet from the Palmyra area. He said ISIS was in control of a hospital in the city which Syrian forces had used as a base before withdrawing.
Earlier, the Syrian Observatory for Human Rights said ISIS fighters seized around a third of Palmyra.
Heritage site
Meanwhile, in a last-ditch attempt on Wednesday to conserve some of the city's history, hundreds of statues have been moved to locations safe from ISIS, the country's antiquities chief told Reuters.
Maamoun Abdulkarim said "small groups" of militants had entered the central city, and called on the Syrian army, opposition and international community to save the UNESCO World Heritage site.
"Hundreds and hundreds of statues we were worried would be smashed and sold are all now in safe places," he said. "The fear is for the museum and the large monuments that cannot be moved," Abdulkarim said. "This is the entire world's battle."

Earlier on Wednesday, the monitoring group said fighting was raging near security buildings in northern Palmyra, including the regime's local state security branch, and close to the city's notorious prison, in the east.
Palmyra besieged
In northwestern Idlib province, which is almost fully in rebel hands, the Observatory said 22 civilians were killed Tuesday in a regime air raid on a border village.

The militant offensive on world heritage site Palmyra began on May 13 and has since left more than 350 people dead.

"Both sides are firing mortar rounds on each other, and regime war planes are shelling the northern parts," the Observatory said.

Mohammad, an activist originally from Palmyra, told AFP that the city was suffering from water shortages and intermittent electricity.

"A large number of people from the city's north have been displaced into other neighbourhoods. Some are sleeping in the streets," he said.

On Monday, ISIS militants seized two gas fields north of Palmyra that the regime had been using to generate electricity for areas under its control.

In Idlib, a regime air raid on the opposition-controlled village of Darkush left at least 22 civilians dead on Tuesday.

Darkush lies on the Syrian-Turkish border, just 50 kilometres (30 miles) northwest of Ariha, one of the last remaining regime bastions in Idlib province.

Also on Tuesday, a rebel coalition including Al-Qaeda's Syria branch seized control of the Al-Mastumah camp -- the largest military base in Idlib.

A huge blast and fierce explosions rocked the site, and rebels swiftly overran the base as regime forces fled south to Ariha.

According to the Observatory and Syria's state television, a teacher was killed and at least 20 students wounded Wednesday when mortar rounds landed on their school in Damascus.

Syria's conflict began in March 2011 with peaceful anti-government demonstrations, but has evolved into a complex war that has left more than 220,000 people dead.
(With Reuters and AFP)