ISIS raises flag over citadel in Syria's Palmyra
The militants seized the city, also known as Tadmur, after days of fierce fighting with the Syrian army on Wednesday
Militants from the Islamic State of Iraq and Syria (ISIS) have raised their flag over an ancient citadel in Syria's historic city of Palmyra, pictures posted online overnight by the group's supporters showed.

The militants seized the city, also known as Tadmur, after days of fierce fighting with the Syrian army on Wednesday.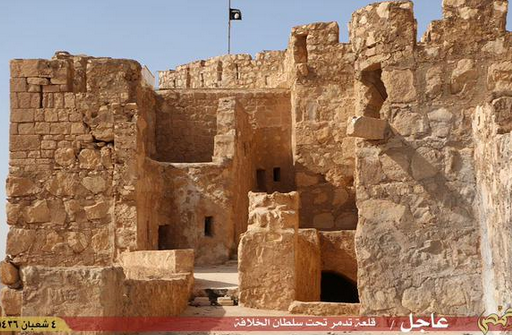 "Tadmur citadel under the control of the Caliphate," read a caption on one picture posted on social media sites, according to Reuters.
In another, a smiling fighter is shown carrying the black flag and standing on one of the citadel's wall.
Syria's antiquities director Mamoun Abdulkarim on Saturday confirmed that ISIS had raised their flag over the ancient citadel that overlooks some of the ruins of Palmyra, he was quoted by Agence France-Presse as saying.
Earlier, the photograph purporting to show an ISIS flag over the citadel was circulated on social media, but it was not possible to confirm its authenticity.
Speaking at a press conference in Damascus, Abdulkarim said ISIS fighters have entered Palmyra's museum and placed guards at its doors.
He said some modern plaster statues in the museum had been destroyed but he did not report any damage to antiquities in the building.
ISIS fighters on Thursday "entered the museum and broke some plaster statues... that were being used to represent life in prehistoric eras."

They returned on Friday, and when they left, "they closed the doors behind them and placed their guards" at the entrance of the museum, Abdulkarim said, citing residents still in the town.
Abdulkarim told AFP after the press conference: "There's almost nothing left in the museum, we had been progressively transferring the antiquities to Damascus."

"But there are still the large items, like the sarcophagi, which weigh three or four tonnes and we could not move, those are what worry me."
Grave concern
On Friday, the U.N. Security Council expressed deep concern for thousands of civilians trapped in Palmyra after it was captured by ISIS.
The 15-member council called for safe passage for fleeing civilians and stated their "grave concern" for the protection of the ancient city, a World Heritage site, according to Agence France-Presse.
The council in particular expressed concern for women and children, noting that ISIS militants had established a "pattern of abducting, exploiting, and abusing women and children elsewhere including rape, sexual abuse, forced marriage and forced child recruitment."
Known in Syria as "the pearl of the desert", Palmyra is home to colonnaded alleys, elaborately decorated tombs and ancient Greco-Roman ruins.
ISIS has destroyed antiquities and ancient monuments it sees as idolatrous in other cities and there are fears it might now devastate Palmyra, home to renowned Roman-era ruins including well-preserved temples, colonnades and a theatre.

[With AFP and Reuters]