Bombs kill 11 in Afghanistan as Taliban, ISIS supporters clash
Gov. Asif Nang said the Taliban have been clashing with rival insurgents claiming allegiance to the ISIS
A suicide truck bomb attack and a separate roadside bombing in southern Afghanistan killed 11 people and wounded dozens more on Monday, as the Taliban clashed with supporters of the Islamic State of Iraq and Syria (ISIS)group in the west, officials said.

Gov. Asif Nang said the Taliban have been clashing with rival insurgents claiming allegiance to the ISIS group for three days in the western Farah province, leaving at least 10 Taliban fighters and 15 IS supporters dead. He provided no further details.
Infographic: Deadly Afghanistan blasts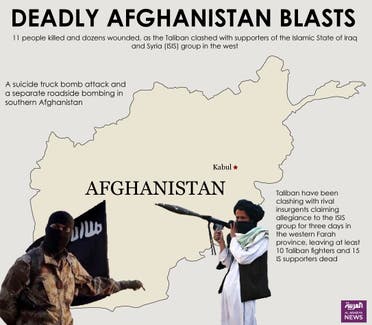 The clashes provide the latest indication of a small but growing ISIS presence in the country. Afghan and foreign officials differ over the extent to which the extremist group -- which rules large parts of Syria and Iraq -- is able to operate in Afghanistan, where the Taliban have been waging war against the Western-backed government for more than a decade.

The truck bomb struck the gate of the provincial council's compound in the capital of Zabul province, killing at least five people and wounding 62, council director Atta Jan Haqbayan said.

Three of the wounded were council members, including two women, and children were also among the wounded, Haqbayan said. Mirwais Noorzai, Zabul's police chief, said the attacker used a small truck.

President Ashraf Ghani condemned the attack. No group immediately claimed responsibility.

Insurgents have stepped up attacks in recent months in Zabul, which borders Pakistan, and a number of Hazara Shiite men have been abducted in the province.

Later on Monday, a roadside bomb exploded in the neighboring Kandahar province, killing six people, according to the governor's spokesman, Samim Khopalwaq.

Three policemen were killed elsewhere in Kandahar when a firefight erupted between two groups of officers, said provincial police spokesman Zia Durrani. Four officers fled the scene, he said, adding that the incident was under investigation.

Meanwhile, in northern Sari Pul province, police said the body of a local official in charge of religious affairs, Abdul Wodod, was found Monday, three days after he was kidnapped. Gen. Habib Gulbhary, the provincial police chief, said the man was abducted by unknown assailants.