Insurgents advance in areas around captured Syrian town
Insurgents who captured the last government-held town in Syria's Idlib province advance in surrounding areas
Insurgents who captured the last government-held town in Syria's Idlib province celebrated inside on Friday and made more advances in surrounding areas, in a further blow to the stretched army and allied militia.

The "Army of Fatah" alliance which includes al Qaeda's Syria wing Nusra Front, the Islamist Ahrar al-Sham group and other factions, captured Ariha town on Thursday night as the Syrian military pulled back.

The army has lost large parts of the northwestern province to insurgents since late March, when the provincial capital fell to Army of Fatah, a name which refers to Islamic conquest.

The recent advances have brought insurgents closer to the coastal Latakia province, President Bashar al-Assad's ancestral homeland and an area of importance to his government.

The army and allied militia have increasingly focused on defending Syria's western flank which includes Latakia, Homs city and Damascus further south.

By Friday the insurgents had advanced further, capturing at least four villages close to Ariha in heavy clashes, the Syrian Observatory for Human Rights and social media accounts linked to groups in the alliance reported.

The Observatory, a Britain-based group which has a network of contacts on the ground, said the insurgents had killed at least 18 pro-government fighters in clashes in the Ariha area and killed another 13 off the battlefield.

The Syrian air force also carried out strikes in the area, the Observatory added.
Civilians Leaving
Images seen by Reuters from inside Ariha on Friday showed a fighter climbing a flagpole to raise a Nusra Front flag in the town's central square as fighters cheered below him. Another showed men with guns sitting on a pavement.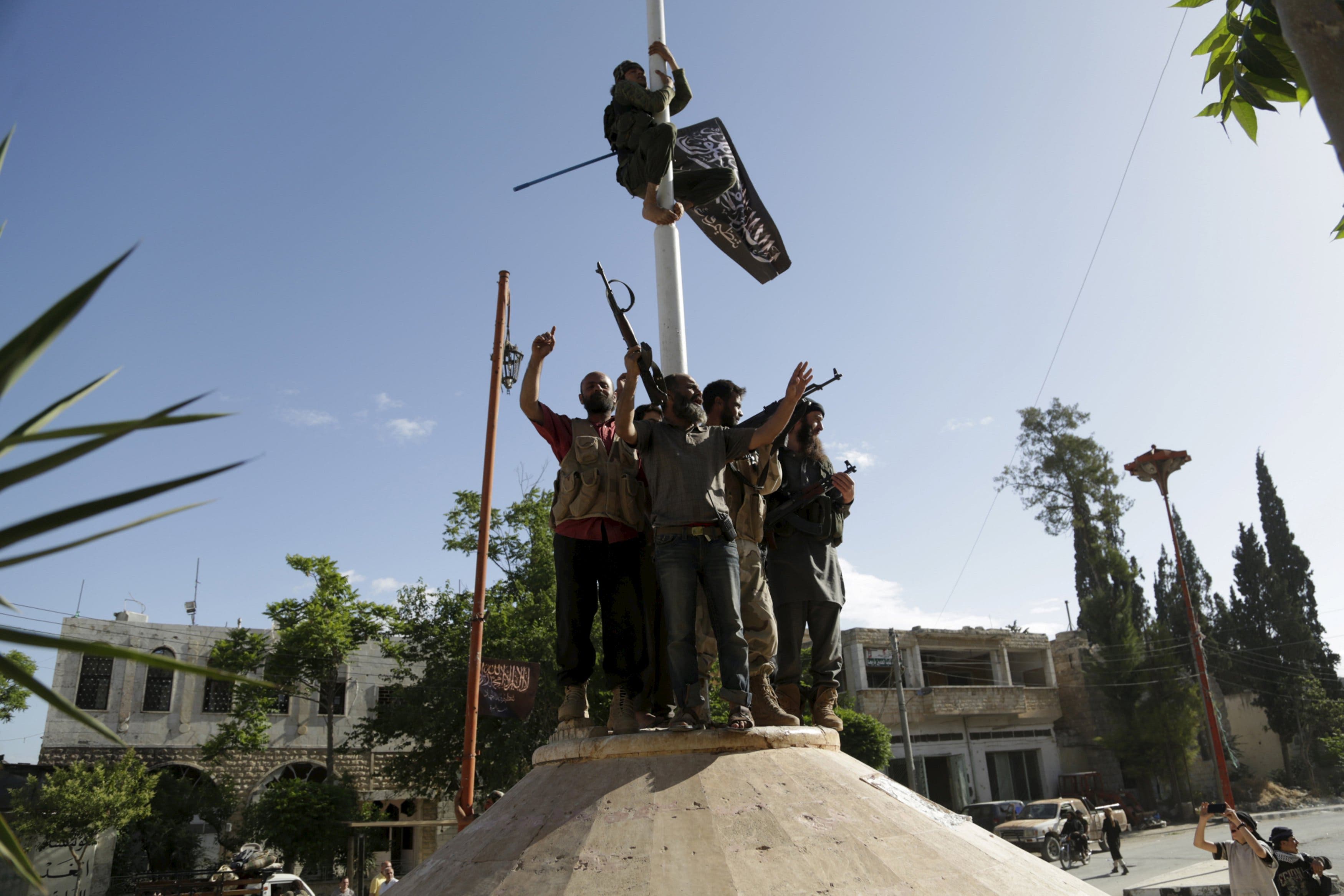 Other images showed people, including the elderly, women and children, crammed into pickup trucks and tuk-tuks with their belongings, leaving the town. They had to pass through insurgent checks before leaving.
Syrian state television said on Thursday government forces had evacuated Ariha and withdrawn to defensive positions outside the town after battling Nusra Front fighters.

Its report on developments on Friday did not mention Ariha but said the military had attacked Nusra Front in the southwestern Deraa province and the Damascus countryside, killing many fighters and destroying their equipment.

The government's losses in Idlib have been compounded by sweeping advances by the hardline Islamic State group into government-held areas of central Syria. The group seized the ancient city of Palmyra, or Tadmur, last week and took control of the last government-held border crossing with Iraq.